Wilderness Survival For Girls
(2004)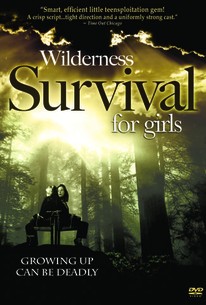 Wilderness Survival For Girls Photos
Movie Info
The thriller Wilderness Survival for Girls concerns a trio of high school girls who end up keeping a stranger captive in the woods.
Rating:
R (for language, some sexual content, nudity and drug use)
Genre:
,
Directed By:
Written By:
On DVD:
Runtime:
Critic Reviews for Wilderness Survival For Girls
Audience Reviews for Wilderness Survival For Girls
½
I think I just love movies too much. Every movie that gets below average rating I end up loving. Wilderness Survival for Girls is about 3 girls who go on a trip to a cabin in the middle of nowhere. Now, I'm sure you think you know where this is going, but this isn't a teen scream slasher movie. This is more of a thriller and you won't know how it will end until it does. It is very suspenseful and even a little scary. It will have you thinking even after the movie ends. The plot is good and the characters are some what interesting, you don't really get to know who they are but you get a good feel for their personalities. For a low budget film the acting and camerawork are excellent. Some of the best I've seen in an independent film. Acting: 8/10 Story: 7/10 Originality: 7/10 Soundtrack: 4/10 Characters: 7/10 Scariness: 7/10 Overall: 8.7/10 (The following is my Review for the fappers 18+): Fapping to this movie can be done but it might be a little hard (no pun intended). All the girls are fairly good looking and early on you get some nice nude tits and some good ass and bra shots. Later on there's some lesbian kissing, but that's about it. SPOILER ALERT: If you're kinky there is some slight bondage later on and some crying. Fap Rating: 4/10
Professor Wizenhymer
Super Reviewer
The 3 female stars all handle their roles and play off each other well, though some of the dialogue they are given is insipid. You feel for these girls and the predicament they are in. The denouement is less than satisfying, but it does wrap up the story sufficiently if not too conveniently. This movie is not going to leave you thinking it was the greatest movie ever made, but it may leave you thinking... which isn't all bad, is it?
Don Schick
½
Good cabin horror/thrillers are hard to come by in recent years- this movie being a great example of the absence. While i wasn't overtly bored during the film- I wasn't shocked by anything either, and i should have been given it's a thriller. While one could narrow down the possible endings to a few at the start of the film, it did surprise me at a couple points. I think the most disappointing aspect of the film was that the sexual points were nothing more than teases- i feel that if you're going to do the typical and put sex in a horror movie- go all out- James Morrison looked great in this movie and let's just say his tumble to his death wasn't his only "fall".
Elizabeth Hailand
Discussion Forum
Discuss Wilderness Survival For Girls on our Movie forum!