Will Penny
(1968)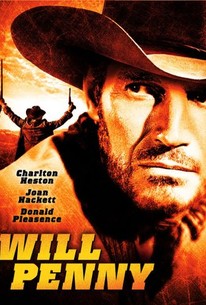 Movie Info
In this western, Will Penny is an aging and impoverished cowboy who stops over at the temporary frontier home of Catherine. She herself is en route to join her husband. Despite her wedding vows and the presence of her young son, Catherine finds herself drawn to Penny.
Critic Reviews for Will Penny
Audience Reviews for Will Penny
Introducing.... Lee Majors & Anthony Zerbe. With Slim Pickens, Bruce Dern, Ben Johnson, & a wild-eyed backwoods pappy in Donny Pleasance! Both Joan Hackett & Heston give solid character driven performances. Good script, editing, and direction - average cinematography & sound. This is a rough gemstone that deserves to be polished up occasionally. Watch also for the young boy Horace, who grew up to be computer-savvy Broots in the popular TV show The Pretender.
Christopher Bergan
½
You stupid jug-head bastard! Will Penny is an aging cowboy who believes he took a fairly easy and straightforward job where he spends his days riding his horse along a ranch's line and ensure no invaders or squatters are in the area. He is assigned to sleep in a cabin in the hills. His first trip to the cabin he finds a deserted lady and her son squatting in the cabin. They make a reluctant agreement to stay in the cabin together through the winter and part ways in the spring. After spending some time together, they may change their spring plans. "You weren't about to do something; were you, because I'd sure like to clean your plow for you." Tom Gries, director of Breakheart Pass, Girl in the Woods, Serpent Island, 100 Rifles, Lady Ice, Number One, The Greatest, The Connection, and Helter Skelter, delivers Will Penny. The storyline for this picture is fairly common for the genre and straightforward. The settings were cool, the dialogue was solid, and the characters were fascinating. The acting was excellent and the cast includes Charlton Heston, Lee Majors, Joan Hackett, Donald Pleasance, Bruce Dern, and Slim Pickens. "Sharing a blanket don't make us married!" Will Penny is a movie I grabbed while in the mood for a western. I loved seeing Heston in this setting and genre and his interactions were as noble as you'd expect. There weren't too many memorable scenes but there were some great interaction and dialogue. This is worth watching once but may not be worth adding to your western collection. "It's just a case of too soon old and too late smart." Grade: B-
Kevin Robbins
Excellent, uncompromising, gritty Western with unexpected touches of warmth. Heston and Hackett are wonderful. Not an especially happy movie, but quietly rewarding.
Frances Ann Ade
Will Penny Quotes
There are no approved quotes yet for this movie.
Discussion Forum
Discuss Will Penny on our Movie forum!