William Shatner's Star Trek Memories
(1996)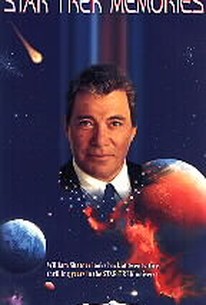 AUDIENCE SCORE
Critic Consensus: No consensus yet.
Critic Reviews for William Shatner's Star Trek Memories
There are no critic reviews yet for William Shatner's Star Trek Memories. Keep checking Rotten Tomatoes for updates!
Audience Reviews for William Shatner's Star Trek Memories
Brings back so many memories of the original TV series! Excellently hosted by Shatner, each cast member is interviewed as to their feelings about the show. Very memorable, I was engrossed and totally immersed in the presentation. [img]https://encrypted-tbn2.gstatic.com/images?q=tbn:ANd9GcQLdK8QocEp9rcesJc0NFX_IAzxGjDHdnMdNChP3AfhW3e1iUs9Dw[/img] A book by the same name by Shatner William Shatner's Star Trek Memories is the behind-the-scenes story of a classic series that lived long and prospered, hosted by the man who captained its amazing journey. [img]http://i40.tinypic.com/309564x.jpg[/img] As James T. Kirk, the intrepid captain of the Starship Enterprise, William Shatner was at the forefront of the world's most popular sci-fi series. Now, for the first time, Shatner shares his personal remembrances of the original TV series and the Star Trek phenomenon. [img]https://d1466nnw0ex81e.cloudfront.net/n_iv/600/1129521.jpg[/img] The book upon which this movie came later Joining him are original crew members Leonard Nimoy, DeForest Kelley, James Doohan, George Takei, Nichelle Nichols, and Walter Koenig. You'll hear the never-before-told stories behind Star Trek. How the fans rallied to save the show after it was canceled. How Chekov's look was styled after The Monkees' Davy Jones. Why the ship's chief engineer was Scottish, the origin of the Vulcan hand-salute, and much more. [img]https://encrypted-tbn1.gstatic.com/images?q=tbn:ANd9GcQ7MyZBF7OUjdVCznhq6YnL5ZgIvRjo1iOWtHf-CGifOWB-C1Nq[/img] Nimoy, left.... Shatner, right Today, I have seen the tv series Star Trek (which ended in 1969) replayed countless times. I must admit, the sets are terribly television, low budget. But what always matters more is the acting, the script, the story. Not expecting to see very much in this 40 year re-telling of the mission of the Star Trek Enterprise... I was totally immersed. For those that were casual fans of the television series Star Trek, this is great stuff. By now the rabid fans of the show have by now certainly seen this wonderful piece of work. [img]https://encrypted-tbn3.gstatic.com/images?q=tbn:ANd9GcToYWdp-M_NVq3khOpPRC0y4NvI3WZceq9x9hy5BL0maHPVMyFS[/img] The cast before the space shuttle U.S. Enterprise. NASA invited the crew of the television Star Trek to unveil the real spaceship SEE the entire film here: http://www.youtube.com/watch?v=I-5OMTa9G2Q Cast members of the television and movie series "Star Trek" reminisce about the making of the series and the films, and give their opinions on why the series has been so successful. [img]https://encrypted-tbn3.gstatic.com/images?q=tbn:ANd9GcSTv9grceATKuHqqT9OYA8iu5L_caNec9PD14GQ-dyHA8ljlLb_yg[/img] Shatner during his tv days as captain kirk Director: Michael Mahler Writers: Michael Mahler, Harry Werksman Host William Shatner Interviewees James Doohan DeForest Kelley Walter Koenig Nichelle Nichols Leonard Nimoy George Takei [img]https://encrypted-tbn0.gstatic.com/images?q=tbn:ANd9GcQFD1jGZqez0mhapQc2dvpdV86gYnTR9CHovy-7f-J90UlJJUrZ[/img] Leonard Nimoy (Spock) in the film often Production crew Michael Mahler (Director, Co-Writer) Harry Werksman (Co-Writer) Jean-Michel Michenaud (Producer) Chris Cowan (Producer) George Zaloom (Executive Producer) Les Mayfield (Executive Producer) John Pace (Editor) [img]http://www.bicitoro.com/wp-content/uploads/2013/02/17-Uhura.jpeg[/img] Lt. Uhura (communications officer) VHS release Release date: 6 February 1996 Other release date(s): 3 June 1996 (UK) 1998 (Netherlands) 5 May 2000 (Germany) Reference: 80210 ASIN 6303944736 (US) [img]https://encrypted-tbn2.gstatic.com/images?q=tbn:ANd9GcR84p2KpeFiqjv96YWtdHIxckF9N0v-qeBOoDZJN6iqf2xveeWP[/img] Orginal and only Star Trek for me
monsieur rick
The best thing about star trek is Shatner's performance as Kirk the worse is Shatner wanting people to believe he cares about trek not just a paycheck.
James Goebel
William Shatner's Star Trek Memories Quotes
There are no approved quotes yet for this movie.
Discussion Forum
Discuss William Shatner's Star Trek Memories on our Movie forum!