Willow
(1988)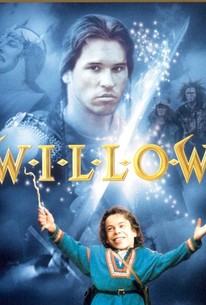 Movie Info
Though Willow was one of director Ron Howard's few box-office disappointments, it definitely deserves a second look. At once an epic celebration and a gentle spoof of the sword-and-sorcery genre, the film concerns the efforts by little person Willow Ufgood (Warwick Davis) to protect a sacred infant from the machinations of a wicked queen (Jean Marsh). One source book has assessed the picture as a combination of The Ten Commandments and Snow White. This is true enough, except that neither one of those properties offered such offbeat casting choices as Billy Barty and Jean Marsh. Executive producer George Lucas has (through the conduit of screenwriter Bob Dolman) added elements of his own Star Wars saga to the stew. The results are generally satisfactory, though the film is sometimes weighed down by too much plot, and the action sequences may not be suitable for very young children. Incidentally, this is the film where co-star Val Kilmer met his future wife Joanne Whalley. ~ Hal Erickson, Rovi
People Who Like this movie also like
News & Interviews for Willow
Critic Reviews for Willow
Audience Reviews for Willow
Christian C
Super Reviewer
½
Classic tale of good vs evil with great characters and creatures throughout. All the cast are likeable and fit perfectly into the story making the film quite humorous in places, the 'Brownies' and 'Madmardigan' especially hehe. The action is nice and not too brutal, brings back the feeling of old 'Errol Flynn' films in a way with swords, swashbuckling and the dashing hero. The main event in this film was the effects in the form of the cgi, first time used in a movie, looks cheesy now but it was state of the art back then. Tippet creatures are nice too with the old stop motion effects, they do look atad raggy these days and are obvious but it kinda harks back to good old fashioned Ray Harreyhausen fantasies. Probably the first big film for Val Kilmer this, he is good as the sort of anti hero turned complete hero, some nice dialog and visual gags, abit silly but hey. Also the first big lead role for UK born Star Wars star Warwick Davis who really does create quite a cult memorable character that is very likeable. Classic fantasy fluff and winner.
Phil Hubbs
Super Reviewer
½
Adventure doesn't come any bigger than this. Well the idea of seeing it as an adult when I really wanted to see as a kid really failed! It was mostly boring at times although the end was the best thing of this movie. The story wasn't that interesting to me sadly. This movie actually was nominated for 2 Oscars even though it didn't won any so give it a shot if you like, maybe your experience will be different. In the dungeons of the castle of the evil Queen-sorceress Bavmorda, a prisoner gives birth to a child who, according to an ancient prophecy, will put an end to the reign of the Queen. A midwife saves the child from the wrath of Bavmorda, but is forced to throw her cradle in a river when reached by the Hounds of the Queen. The river brings the child near a village of nelwyns, and little Willow finds and adopts her. When the Hounds reach the village, Willow begins a difficult journey to bring the baby back to her people and to fulfill the prophecy.
Willow Quotes
| | |
| --- | --- |
| Willow Ufgood: | Don't call me a peck! |
| Madmartigan: | Oh, I'm sorry! Peck! Peck! Peck, peck, peck, peck, peck, peck, peck! |
| | |
| --- | --- |
| High Aldwin: | Go in the direction the bird is flying! |
| Burglekutt Prefect: | It's going back to the village! |
| High Aldwin: | Ignore the bird. Follow the river. |
| | |
| --- | --- |
| Sorsha: | You lost your skirt. |
| Madmartigan: | I've still got what counts. |
| | |
| --- | --- |
| Willow Ufgood: | What are you giving her? |
| Madmartigan: | Just some blackroot. |
| Willow Ufgood: | Blackroot! Didn't you ever hear that you never ever give a baby blackroot? |
Discussion Forum
Discuss Willow on our Movie forum!