The Wind and the Lion
(1975)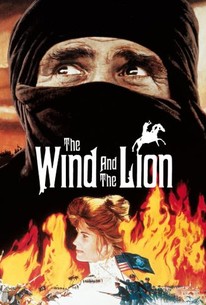 The Wind and the Lion Videos
The Wind and the Lion Photos
Movie Info
In the early 1900s, an American businessman was kidnapped by a rebellious Arab chieftain, principally as a means to embarrass the sultan of Morocco. This abduction sparked the threat of armed intervention by President Theodore Roosevelt, which was never carried out. In The Wind and the Lion, the unattractive male captive is replaced by the gorgeous female Mrs. Pedecaris, an American widow played by Candice Bergen. The ruthless but essentially decent Arab chief Raisuli is portrayed by Sean Connery, while Teddy Roosevelt is depicted as a jingoistic blowhard by Brian Keith. The film's main theme -- that of America's emergence as a world power -- is largely secondary to the growing mutual-respect relationship between Mrs. Pedecaris and Raisuli. After releasing his hostage, Raisuli is himself captured by German forces, who at the behest of the Kaiser are seeking out methods of laying the groundwork for what would evolve into World War I. Mrs. Pedecaris must then help Raisuli escape.
Rating:
PG
Genre:
, ,
Directed By:
Written By:
In Theaters:
On DVD:
Runtime:
Studio:
MGM Home Entertainment
News & Interviews for The Wind and the Lion
Critic Reviews for The Wind and the Lion
Audience Reviews for The Wind and the Lion
The sheer ridiculousness of Sean Connery as an Arab prevented this film from being anything other than absurd for me.
Justin Storms
½
Movie making in the old style, with broad brush strokes substituting for detail (and Sean Connery as an Arab chieftain), here is the tale wherein hostages grow to care for their kidnappers. Connery is dashing as the bandit and Candice Bergen is sufficiently outraged at first, until she begins to admire the head chopping sheik who burbles those classic words of love, "You're a great deal of trouble, Mrs. Pedecaris," in a Scottish brogue. Okay, so there's some points of quibbling here, yet and still the overall effort is an winning one, successfully engaging the viewers into something akin to majesty. I like this politically incorrect bit of dash.
Kevin M. Williams
Super Reviewer
½
The action is great, the dialog crackles, and how can you not live a young Candice Bergen. Also watching Sean Connery playing Mulay Achmed Mohammed el-Raisuli the Magnificent with a Scottish accent is hilarious. But, I'm not sure how I'm supposed to feel about all the characters. I mean this is a movie where we almost start WW1 over a girl and her two kids. It's a movie where I'm supposed to sympathize with a guy who beheads two guys almost directly after we meet him. Still great fun. And I believe this is the first instance of blood splattering on the camera lens, to the best of my knowledge.
Ken Stachnik
Super Reviewer
The Wind and the Lion Quotes
| | |
| --- | --- |
| Raisuli the Magnificent: | We will all eat lamb in Paradise. |
| | |
| --- | --- |
| Raisuli the Magnificent: | Mrs. Pedecaris, you're a lot of trouble. |
| | |
| --- | --- |
| Raisuli the Magnificent: | (Telegram) To Theodore Roosevelt: You are like the Wind and i Like the Lion. You form the tempest, The sand stings my eyes and the ground is in parched. I roar in defiance but you do not hear. But between us there is a difference. I like the Lion must remain in my place, but you like the wind, will never know yours.(Signed) Mulai Ahmed Mohammed el Raisuli the Magnificent, Lord of the Rif, Sultan to the Berbers |
| Raisuli the Magnificent: | [telegram] To Theodore Roosevelt: You are like the Wind and i Like the Lion. You form the tempest, The sand stings my eyes and the ground is in parched. I roar in defiance but you do not hear. But between us there is a difference. I like the Lion must remain in my place, but you like the wind, will never know yours. [signed] Mulai Ahmed Mohammed el Raisuli the Magnificent, Lord of the Rif, Sultan to the Berbers. |
| | |
| --- | --- |
| Raisuli the Magnificent: | Ignorance is a steep hill with perilous rocks at the bottom. |