Windfall
(2012)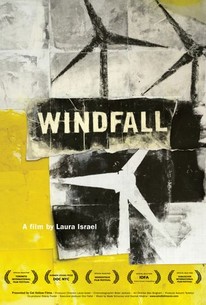 Movie Info
Wind power... it's sustainable ... it burns no fossil fuels...it produces no air pollution. What's more, it cuts down dependency on foreign oil. That's what the people of Meredith, NY first thought when a wind developer looked to supplement the rural farm town's failing economy with a farm of their own -- that of 40 industrial wind turbines. But when a group of townspeople discover the impacts that a 400-foot high windmill could bring to their community, Meredith's residents become deeply divided as they fight over the future of their community. With wind development in the United States growing annually at 39 percent, Windfall is an eye-opener for anyone concerned about the environment and the future of renewable energy. -- (C) First Run Features
Rating:
NR
Genre:
, ,
Directed By:
In Theaters:
On DVD:
Box Office:
$6,093.00
Runtime:
Studio:
News & Interviews for Windfall
Critic Reviews for Windfall
Audience Reviews for Windfall
½
This documentary at times seems like it's rushing to throw as many varieties of dirt at wind power as it can. Some of its complaints stick, some don't. But even if this film focuses too little on substance and too much on petty small-town personality clashes, it's different perspective on wind power still makes it an important film to let bounce off of you.
Anthony Bencivengo
Windfall takes aim at clean, renewable wind energy with misinformation. Everyone seeing this film, or reading uninformed reviews from some of these critics, owes it to themselves to learn the truth. For example, Massachusetts environmental and public health agencies just reviewed all scientific studies available and concluded in January that, âThere is no evidence for a set of health effects from exposure to wind turbines that could be characterized as a 'Wind Turbine Syndrome'â¦we conclude the weight of the evidence suggests no association between noise from wind turbines and measures of psychological distress or mental health problems.â? Shadows from moving wind blades typically last just a few minutes near sunrise and sunset in bright sun conditions, and can be addressed through the location of turbines and plantings. German researchers found that flicker would affect residents for 100 minutes per year under the worst conditions and 20 minutes per year under normal circumstances. Even then, the rate of flicker is far below the frequency that, according to the Epilepsy Foundation, normally is associated with seizures. A 2007 report by an expert panel for the National Academy of Sciences found it "harmless to humans." You wouldn't know that if your only source of information about wind energy was this severely slanted film. As another critic said: "The documentary isnâ(TM)t big on hard data; instead, [Director Laura] Israel allows the majority of her interviewees to deliver anecdotes, speculation, anti-corporate conspiracy theories, and just a few statisticsâ¦the movieâ(TM)s case relies more on emotional appeals and frightening images of giant machines than on real, objective number-crunchingâ¦the unbridled scare tactics cast too big a shadow over the agit-prop doc Israel ended up making." (Noel Murray, AV Club, Feb. 2, 2012) Read more about what Windfall gets wrong, at http://bit.ly/xg8Xl6 Peter Kelley American Wind Energy Association
Peter Kelley
Windfall Quotes
There are no approved quotes yet for this movie.
Discussion Forum
Discuss Windfall on our Movie forum!