Winds of the Wasteland
(1936)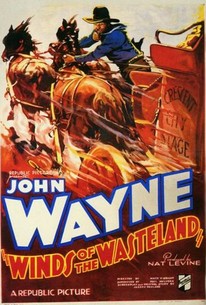 AUDIENCE SCORE
Critic Consensus: No consensus yet.
Winds of the Wasteland Photos
Movie Info
This film casts John Wayne as a novice stagecoach line owner. John Bliar (Wayne) and his partner Larry Adams (Lane Chandler) are given the opportunity to win a $25,000 mail contract. But a rival coach line does everything it can, legal or otherwise, to knock Blair's operation out of the running.
Rating:
NR
Genre:
, ,
Directed By:
Written By:
In Theaters:
On DVD:
Runtime:
Studio:
Scott Entertainment
Critic Reviews for Winds of the Wasteland
There are no critic reviews yet for Winds of the Wasteland. Keep checking Rotten Tomatoes for updates!
Audience Reviews for Winds of the Wasteland
An end of the era is coming. The Pony Express is nearing an end as the telegraph line is about to be put up, making the way the mail was delivered for years obsolete. Two Pony Express riders (John Wayne, Lane Chandler) decide to go into the stagecoach business, with the Pony Express horses that were given to them and other riders as a gift of thanks for their service. The two ask the owner of the local stagecoach service (Douglas Cosgrove) if they could purchase one of his older stagecoaches. However, he offers them their own franchise to a city almost an hour away, Crescent City. The two travel to the small city, only to realize they were tricked. Turns out that the city is rundown, and has only two residents. "John Blair" (Wayne) decides it's not worth accepting the offer for the franchise, but the mayor of the city (Lew Kelly), who has a lot of other jobs in the city, informs him that the United States government is offering a contract to deliver the mail in the area via stage coach. As long as they win a race with other stage coach services in the area. At one point, "Blair" comes across the team putting up the telegraph wires for the area, and gets them to agree to bring the telegraph to Crescent City, and a much needed boost to the population. Word gets to "Cal Drake" (Cosgrove), who makes plans to sabotage the Crescent City line's chances in winning that contract. Now, "Blair" has to win the contract -- and try to keep the new residence of Crescent City there. The first problem with this movie is the length. It's almost 56 minutes long, and doesn't feel like a movie at all. However, it's got some pretty good performances that make it interesting enough to keep your attention. I can't remember how many early Wayne movies I've seen lately, but, as with all the previous ones, I think Wayne has the strongest performance in the film. The others are pretty memorable as well, with Phyllis Fraser with the weakest performance as the daughter of one of the original two Crescent City residents. One of the biggest problems this movie has, most likely due to the length of it, is character development. Many supporting characters had very little development. You get to meet them, and how they play in the story, but not much more. The movie basically focuses on Wayne's character, which doesn't give the supporting cast any screen time to advance any subplots they are a part of. One of those subplots that was completely missed was the romantic subplot between "Barbara Forsythe" (Fraser) and both of the lead actors. There is no story that describes how she appears to go after one of them, but ends up with the other. The soundtrack to the movie sounded to me like a early TV Western. Nothing when it came to music stood out at all. Even the music during the only fist fight in the entire film was pretty bad. This soundtrack will not go down as one of the greatest scores in movie history. Due to the time this film was made, the special effects are not done by a computer, and are, at best, OK. In scenes where the two characters are riding on the stagecoach, it is obvious that they are in front of a movie screen. But, this simplistic effect works real well. The movie is mainly shot outdoors. But, none of the scenes are memorable. There are a few horse chases, and the stage coach race that are shot fairly nicely. And the shots during the race where they go from the race to close-ups on stagecoach mock ups in front of a movie screen are edited together smoothly. Despite the flaws of this movie, this is not a bad movie. I would not put it in your must-see list, but you should check it out if you see it on Encore Westerns, and there is nothing better to do. In fact, it's currently on Hulu right now, which is how I watched it. I would also check it out if you are a fan of John Wayne. It will show you that he was destined for his legendary status in Hollywood.
Mickey Micklon
One of the best 'B' Westerns Duke made for Lonestar. It has an interesting plot of running a stagecoach race for a bunch of government money. It's nothing special but is kind of fun to see a unique storyline in one of these flicks, as well as watching Duke and his buddy build up a ghost town with two people, into a popular location.
Zack Butson
John Blair and his partner Larry purchase a run-down stagecoach line and enter a race with competing stage operator Cal Drake for the rights to a government mail-delivery contract. But Drake is dishonest and uses his villainous flunky Smoky to attempt John's and Larry's defeat, by any means necessary.
Rick M
Winds of the Wasteland Quotes
There are no approved quotes yet for this movie.