Windy City Heat
(2006)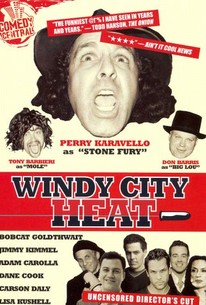 Movie Info
This made-for-cable movie may well stand the test of time as one of the most elaborate practical jokes ever televised -- or, at the very least, one of the cruelest. Perry Karavello is an actor whose talent does not quite reach the level of his ambition, but that has not stopped him from pursuing the vain bitch goddess success for nearly ten years. During this time, comedians Tony Barbieri and Don Barris, proclaiming their undying friendship for Karavello, promise him that, some day, they would help him get his big break in a high-budget action film. The dream seems within Karavello's grasp when, at long last, he lands the starring role of "sports private eye" Stone Fury in the upcoming Chicago-based film Windy City Heat. There's only one problem: There is no such film. The movie, and the grueling events leading up to its "production date" (including an outrageous meeting with the supposed Japanese "money men"), are all part of an outsized hoax, cooked up by Barbieri, Barris, and director Bobcat Goldthwait. Need we add that the hapless Karavello is kept in the dark right up the moment that the director shout's "That's a wrap"? Windy City Heat made its Comedy Central network debut October 12, 2003.
Critic Reviews for Windy City Heat
Audience Reviews for Windy City Heat
The greatest prank ever pulled, even if it is somewhat cruel. Perry is so oblivious you think he's gotta be in on the act. I laughed at almost every improbable scenario the guillible Perry is put in. After doing some research, I concluded that this is 100% real. You have to see it for yourself. Destined to be a cult classic if it isn't already.