Wing Chun
(1994)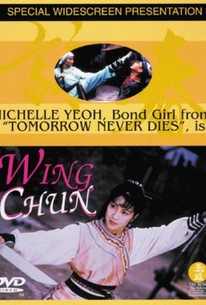 AUDIENCE SCORE
Critic Consensus: No consensus yet.
Movie Info
Wing Chun is a martial-arts film with an unusual feminist bent, inspired by a true historical figure. In 19th-century China, a pack of bandits attacks a remote village, attempting to kidnap a beautiful young widow named Charmy. However, they are foiled by Yim Wing Chun, a local tofu-shop owner who also happens to be a fearsome fighter; she defeats the thieves nearly single-handedly. This infuriates the evil bandit leader, who turns his full forces against the town in an effort to recapture Charmy. As if this weren't trouble enough, things become even tougher for Wing Chun when her childhood sweetheart, now also a martial-arts master, arrives in town after an absence of many years. On his return, he immediately falls in love with Charmy, mistaking her for Wing Chun -- and mistaking the real Wing Chun for a man. These farcical manueverings provide the backdrop for numerous fight sequences, which are filled with astoundingly acrobatic choreography skillfully performed by Hong Kong action star Michelle Yeoh. Especially notable is the final showdown between Wing Chun and the bandits, which proves once and for all it's not the size of the weapon, but the way that you use it. ~ Judd Blaise, Rovi
Rating:
NR
Genre:
, ,
Directed By:
In Theaters:
On DVD:
Runtime:
Studio:
Tai Seng
Critic Reviews for Wing Chun
Audience Reviews for Wing Chun
One sentence summary: Action-adventure film also works well as romantic comedy. ------------------------------------- I saw Michelle Yeoh first in Tomorrow Never Dies (1997), next in Crouching Tiger, Hidden Dragon (2000), then in Memoirs of a Geisha (2005) before I saw her in the film under review, Wing Chun (1994). In the first three films, hers was a strong, polished presence, showing an accomplished actor capable of nuance as well as swift direct action. The 1997 and 2000 films showed her physical prowess as well, but by the 2005 film, her acting alone was impressive. Wing Chun was a bit of a pleasant surprise. The screenplay, the direction, and the production values clearly did not make full use Yeoh's abilities. On the other hand, it was funny, sweet, and moved along to a pleasant conclusion. The screenplay and the other actors were just good enough to carry the film to the next part where Yeoh was present. Wing Chun the character was a woman who had moved away from her early home to study kung fu in seclusion. Later in life, she was fine with helping protect from bandits the town where Aunty Fong did business. She expected to live out her life with her dignity, but not have a husband. Life changed for her when her childhood sweetheart Pok To rolled into town; she recognized him, but he did not recognize her, which started a sequence of misadventures. The leader of the bandits (Flying Chimpanzee) gets discouraged with being thwarted by Wing Chun, and decided to make a cause of her. This involved lots of choreographed kung fu fighting, fighting with weapons, fighting on horseback, and so on. The fighting and the romantic entanglements resolve in ways that were happy for almost everyone. -----Scores------ Cinematography: 9/10 Very good in most of the film. Sound: 8/10 Fine, except for the over the top foley for the fighting sequences. Acting: 8/10 The main players were fine, but many of the supporting cast not as much. Screenplay: 8/10 This is the best comedy I've seen in many years.
Ed Collins
½
This should have been a lot better, Yuen Woo Ping's comedy timing certain lacks more balance. This type of material is more fit for someone like Lau Kar Leung, or even Stephen Chow in his prime. Mrs Yeoh does a good job as usual, and Donnie Yen plays a fun character instead of his tiredsome "stone cool guy" persona. But the fights feel rushed, and no, they're not actually using wing chun. Watch The Prodigal Son if you want actual wing chun done right.
Tsubaki Sanjuro
Super Reviewer
Wing Chun surprises with its fast pace and excellent physical comedy. Fight scenes are also convincing. The entire setting is not very original, but amusing and that is what really counts. The bad guys are rather faceless, but not a big disappointment. The film isn't really a drama or action film, but rather a fast-paced slapstick. A fun experience and an admirable Kung Fu flick.
Steven Vincent Gee
Super Reviewer
Wing Chun Quotes
There are no approved quotes yet for this movie.