Wisegirls
(2002)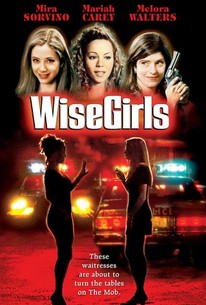 Movie Info
David Anspaugh's mix of female bonding and mob drama, Wisegirls concerns a trio of waitresses. Meg (Oscar winner Mira Sorvino), wise-talking Raychel (Mariah Carey), and wannabe dancer Kate (Paul Thomas Anderson regular Melora Walters) grow close while working at an Italian restaurant. After saving a man's life at the eatery thanks to her time in medical school, Meg begins to realize that the establishment is mob-controlled. Soon she must hide the dead body of her boss (whose "whacking" she indirectly caused). Eventually, Meg discovers secrets about her two friends and is forced to risk her life in order to gain information on the mobsters. This mix of gangster film and female bonding screened at the 2002 Sundance Film Festival.
Critic Reviews for Wisegirls
Audience Reviews for Wisegirls
Actually a lot better than what I expected. I only watched this one because it was leant to me, and also I really like Mira Sorvino, so decided to give it the benefit of the doubt despite how bad it looked. First of all, Mariah Carey is awful in this. Just awful. She has gained a little more respect from me since she did "Precious" (i did not even recognise her in that one!) but this is 2002, and her performance is right up there with Glitter. Also the "mob" guys are very cliched and not the best acting.(Also kind of racist, as one of the waitresses remarks that all Italian restaurants are run by criminals. Nice). Mira Sorvino is good, I think she normally is. Luckily the story mainly follows her as Meg, a woman who has had some type of trauma (I don't think they every fully explain what, or maybe I just missed that part - although I honestly did watch this one all the way through!). She has come home to stay with her Grandmother who seems to have some type of dementia, and she gets a job in an Italian restaurant. It's obvious the guys running it are pretty shady, but the full extent of it doesn't become apparent until she is in too deep to leave, setting up some horrible and unsettling situations. In the meantime she has made good friends with the other two waitresses there played by Mariah and Melora Walters (who is okay - not outstanding - but next to Mariah, definitely okay). This strikes me as a straight to DVD movie. I was so-so with it until about an hour in when it does pick up and it has a few interesting twists, the final one which actually left me teary. (However, I think that was more to do with a personal issue in my life over a friend I lost - I really don't think the acting was that great in this to credit it with that!). I didn't mind this movie. Definitely there are worse ones to spend an hour and a half with.
Nicki Marie
Super Reviewer
½
This was actually a pretty cool movie. And Mariah was not so bad, playing one of the waitresses waiting on Mobsters in NYC. Mira Sorvino co-stars in this pretty cool movie with a suprise twist.
Donna Dawson
Super Reviewer