The Witchmaker
(1969)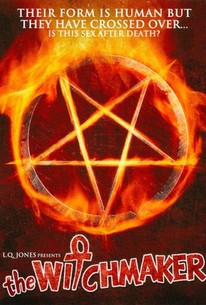 AUDIENCE SCORE
Critic Consensus: No consensus yet.
Movie Info
This supernatural thriller is set deep within the Louisiana bayous where eight women have been brutally and bizarrely murdered. The locals whisper that it was witchcraft that killed them and this attracts the interest of a parapsychologist who organizes a team and enters the dark swamps to investigate for himself. He soon finds an evil warlock who uses human blood to fulfill his bargain to a hungry 200-year-old witch. The warlock watches the group and decides that his next victim will be one of the young women in the expedition as one of her ancestors was a witch. Fortunately, for her, she has a few powers he doesn't know about.
Rating:
R
Genre:
,
Directed By:
Written By:
In Theaters:
On DVD:
Runtime:
Studio:
Arrow Film Associates
Critic Reviews for The Witchmaker
All Critics (1) | Fresh (1) | Rotten (0)
It's hard to imagine a film this gruesome being shown on commercial TV stations, but it was a staple on the defunct 'Creature Features' TV show on KTVU Channel 2 in the 1970s.
Audience Reviews for The Witchmaker
½
Tons of creepy set pieces and locations, surprising well written and acting that exceeded my expectations. Black magic, satanism, and some (un)pleasant surprises! I am glad i took a chance on this one! Seriously recommended for those who are a fan of occult/satanic flicks like: Dracula 1972 AD, the Pyx, To the Devil a Daughter, Evilspeak, The Devil Rides out . . .
Michael Joseph
Another obscure classic from my misspent youth! Heavily edited for TV, but still scary as hell in spots (and it has flashes of brief nudity, tastefully done - mostly). Parapsychologists vs. witches in the Louisiana swamps! Who's-a gonna win? I won't tell at all, dears - track this classic down and find out for yourself!
greg w
½
Alvy Moore and L.Q. Jones didn't make very many movies together, but their final co-producer effort, [i]A Boy and His Dog[/i], is something of a classic. Less known are their earlier collaborations, the satanic cult flicks [i]Brotherhood of Satan[/i] and [i]The Witchmaker[/i] and 1964's [i]The Devil's Bedroom[/i], an intruiging-sounding film I've never seen. While [i]Brotherhood of Satan[/i] is available on DVD (from Columbia!), [i]The Witchmaker[/i] isn't, which is a shame, as it's the superior of the two. The set-up starts the film firmly in [i]Death Curse of Tartu[/i] territory as a professor of parapsychology (Moore) leads a group of students and a journalist to a remote island area to study the strange vibes in the area. One of the group, Tasha, is a "sensitive," being the granddaughter of a witch, and eight girls have been found in the area hung from trees, with Egyptian symbols painted in blood on their lifeless torsos. (This, strangely, doesn't cause the group to take any real precautions when it comes to security. It's not until the first character is killed that a watch is even set up.) It seems all the trouble comes from a loopy warlock named Luthor, who, when not hailing Satan (which he does often), teams up with a 200-year-old hag to mentally control Tasha into leading members of her party into their lair for blood sacrifices. The plan it to get Tasha to eventually join them as the thirteenth member of their coven, which they need to... er, worship Satan more fully or something. Fortunately, the movie manages to be better than its' typically B-grade drive-in plot, as the characters, especially the leads, are well-defined and intelligent enough to do something about their situation, even if it takes them a while. Characters that die are actually missed by the others, even after they've been buried, and the plan near the end to turn the tables on the cover involving hypnotism and pig's blood is clever rather than simply a cheap way to end the movie. It helps that the whole thing was filmed in the bayous of Louisiana, lending a nifty tone of creepiness to things. You honestly feel that this is a place far away from civilization, and you can even forget that the professor is that guy from "Green Acres." Sure, there's flaws, like a little much "Hail Satan"-ing (We get the point already. You're the bad guy.) and the fact that two of the leads vanish completely three-quarters of the way through the film. But as a piece of groovy bayou satansploitation, [i]The Witchmaker[/i]'s pretty damn fun and worth seeking out. It has to be said that this film really needs a DVD release. The "Interglobal Home Video" release (which I believe is cut) I've got is far too dark to the point where you can't really even make out what room they're supposed to be in a good percentage of the time. This would make an ideal Something Weird DVD entry, though I have no idea where the rights lie. (SW did release [i]The Thirsty Dead[/i], also on Interglobal, so it may have ended up in the public domain.)
Paul Freitag
The Witchmaker Quotes
There are no approved quotes yet for this movie.