With a Friend like Harry...
(2001)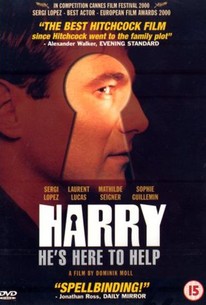 With a Friend like Harry... Photos
Movie Info
A spiraling descent into fear which begins on a quietly ominous note as family man Michel sets out for his summer home in the countryside with his wife Claire and their three screaming infant daughters. A blistering heat wave and the increasingly cranky children force the family to make a pit stop. In the rest area, Michel bumps into Harry, an old school classmate he doesn't remember, but who seems to remember Michel fondly. Harry, so impressed with Michel when they were younger, even recites from memory a poem Michel wrote as a teenager. Soon, Harry and his voluptuous fiancee, Plum, are joining Michel's family on their vacation. Harry seems to be just what the family needs--his carefree spirit and charm light up Michel's mundane little holiday, allowing him to let go. Yet the friendlier Harry gets and the more generosity and advice he bestows on Michel, the mysteriously menacing his effects becomes.
Critic Reviews for With a Friend like Harry...
Audience Reviews for With a Friend like Harry...
With A Friend Like Harry is a suspenseful thriller filled with dark humor and driven by a wonderful performance from Sergi Lopez as Harry, a dangerously obsessive man who claims to be a high school acquaintance of the protagonist. Whether or not he's telling the truth about this is open to interpretation, but he is nonetheless a very fun and interesting character. His backstory is left completely ambiguous, allowing the viewer to interpret who he is, but he comes off as almost humorously psychotic at times. There isn't any huge revelation at the end. Rather, the ending is unusually quiet, although like the rest of the movie it's very suspenseful and tinged with a subtle sense of humor. With a Friend Like Harry is a refreshingly original and enjoyable thriller that will keep you on the edge of your seat up until the end, and one that packs a spectacular performance from Sergi Lopez.
Joey Shapiro
Super Reviewer
Hitchcock inspired suspense is fabulous because we know the French can produce great suspence without the Hitchcock inspiration. When the two come together we get With a Friend Like Harry or whatever else they want to call the English version of his film. Nonetheless it is dynamite. Who is this Harry and what is he really about? Will they find out before the dastardly plan comes to pass?
John Ballantine
Super Reviewer
Fascinating study of a man whose obsession with a former schoolmate is disguised as an overabundant willingness to "help". We are never quite sure what fuels this dark psychosis, but we know things aren't right almost from the beginning. The tension quietly builds to a violent climax and leaves the intended victim victorious. The action takes place mainly at the young couple's country chateau. The scenery is pretty, but somewhat nondescript. The script is subtle and drops clues but never fully reveals its destination until the very end. There is a sexual tension that hangs heavily over the story, but it is never blatant or explicitly brought out into the open. Just a general unease in Marcel (Laurent Lucas) and Claire (Mathilde Segnier) triggered by the presence of Harry (Sergi Lopez) and his earthy girlfriend, Prune (translated as Plum, and played by Sophie Guillemin). Well done effort by director Dominik Moll and one that kept this viewer intrigued for nearly two hours.
Mark Abell
Super Reviewer
With a Friend like Harry... Quotes