The Cavern
(2006)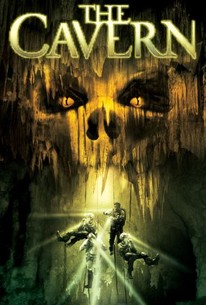 AUDIENCE SCORE
Critic Consensus: No consensus yet.
Movie Info
Eight spelunkers exploring an uncharted cave system in Central Asia are thrust into a terrifying fight for their lives when their guides are killed and an unknown presence stalks them from the shadows in director Olatunde Osunsanmi's subterranean shocker. The group leaders have fallen prey to an unseen predator with a deadly bloodlust and a seemingly supernatural gift for navigating the labyrinthine cave system. Upon discovering that the only known exit has been mysteriously sealed since their entry, the remaining survivors must travel ever deeper into the pitch-black maze in hopes of discovering an alternate means of escape. As the body count continues to rise and the memories of daylight fade to a forgotten dream, the determined explorers charge head on into the into a world where humankind has lost its position at the top of the food chain.
Rating:
R
Genre:
, ,
Directed By:
Written By:
In Theaters:
On DVD:
Runtime:
Studio:
Sony Pictures Home Entertainment
Critic Reviews for The Cavern
There are no critic reviews yet for The Cavern. Keep checking Rotten Tomatoes for updates!
Audience Reviews for The Cavern
½
A group of cave explorers decided to explore an unknown cave. This film is supposed to be a horror film of the genre much like "The Cave" While it's fair to note that I am using an old LCD monitor which is a little dark and my copy of this film was in Italian (which I do not speak) with English subtitles which were badly out of sync, I have to say that the movie was way too dark and contained some serious plot holes. I mean it is so dark that in many places you will likely have no idea as to what is going on. Granted it's a movie about being in a cave so you would expect it to be dark I feel this goes beyond what you would expect. For that I'm giving it two and a half stars versus only two. Despite the shortcomings with the lighting the movie does have a plot and a bit of a story. There is even a twist ending of sorts albeit poorly done and containing some logical errors. Bottomline: Don't expect much. Don't adjust your TV-- it's just dark. Don't expect it to all make sense at the end. You'll probably want your time back after watching this but then again it might also have you searching around for reviews and explanation on the net in order to figure out the ending and what all happened too. That has to count for something, right?
David M
Here are my feelings toward this movie. A few years ago I saw a movie on a shelf in one of those bargain stores and bought it for $2.50. It looked fairly decent by the cover and I even convinced my dad to watch it. I would like to say that this movie isn't worth a single freaken penny and wish that I could somehow get those 80 minutes that it stole from my life. That's how terrible this movie is. I originally thought that it would be better to not waste the time writing a review, but I must warn the people who were more fortunate than me. The Cavern is about as inexpensive as you can get in filming and while Paranormal Activity had an even smaller budget, The Cavern's special effects are so cheesy and clichéd that I question whether this was even an official film. The cinematography will get on your nerves and sooner or later will make you nauseous. Also, the plot tries to disguise itself as original but is in fact just a strange mix of weird happenings, bad ideas, and horrible acting, with virtually no script leading up ending that is ridiculous and with no hint of imagination. The Cavern is deprived of each and every element that makes a good movie and doesn't even have the decency to admit that it's a desperate attempt for entertainment. It ranks as one of the worst movies I've EVER seen!
Evan Adams
If the filmmakers couldnt even properly simulate the lighting from a campfire how did they think they could pull off a movie based out of a cave? The lighting for a dark setting like that is tricky and if they cant even light subjects by a campfire they have absolutely no business taking on a challenge like this. The lighting which was supposed to represent a campfire was so inconsistent and the color temperature kept changing from yellow to dark orange. It was obvious the fire was being simulated. Absolutely awful. In one scene you could even see the film crew and equipment in the reflection of the guy's glasses. Unprofessional. Shouldve had the guy take his glasses off. Also was I the only one that noticed the tents GLOWING? Has the film crew never been camping before? Tents arent bright neon green and yellow and even if they were, one lantern couldnt make an entire tent glow. The writing was cheesy/predictable and the acting was way off. The lighting only got worse as they went into the cave. The flashlights on their helmets put a glare on pretty much every shot. They were a distraction and didnt do what they were meant to do which was to LIGHT the scene. Common sense. I only watched the first 20 minutes but I assume the movie just gets shittier from there. I typed this review from my ipad so I apologize for any spelling errors.
The Cavern Quotes
There are no approved quotes yet for this movie.