Witness to Murder
(1954)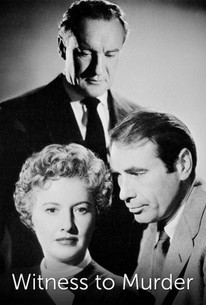 AUDIENCE SCORE
Critic Consensus: No consensus yet.
Movie Info
The witness of the title is Barbara Stanwyck, who insists she's seen a man strangling a girl in the apartment across the street. The murderer is George Sanders, an ex-Nazi with plenty of experience in covering his tracks. Deftly disposing of body and clues, Sanders is able to convince the authorities that Stanwyck is hallucinating. But Stanwyck persists, forcing Sanders to show his hand in a fateful climax. Witness to Murder is far beneath the talents of its stars, though both Stanwyck and Sanders, pros that they are, give the material the old "Academy Award" treatment.
Critic Reviews for Witness to Murder
All Critics (3) | Fresh (2) | Rotten (1)
The story is strong and well told, building tension in the final act, delivering a satisfying payoff

This threadbare little thriller looks like it was written and shot over a weekend.


Ozus' World Movie Reviews
Audience Reviews for Witness to Murder
½
I'm not used to being accused of murder. A woman thinks she witnesses a murder and immediately calls the police. The police and a detective come immediately to her and listen to her story. Her story has so many holes the concept of a murder having actually taken place seems unlikely. The detective tries to meet with her regularly to hear her thoughts and make sure she is okay, but her persistence in pursuing the case may lead to her needing mental help. "It could be worse tomorrow." "That's what I am afraid of." Roy Rowland, director of Meet me in Las Vegas, The 5,000 Fingers of Dr. T, Our Vines Have Tender Grapes, Man Called Gringo, and The Moonlighter, delivers Witness to Murder. The storyline for this picture is worthwhile and a little like Rear Window. The acting was very good and the cast includes Barbara Stanwyck, George Sanders, Gary Merrill, and Juanita Moore. "I have nothing to fear from you. You're insane." I came across this on Turner Classic Movies (TCM) and decided to DVR it. This was a good movie and was well paced. Stanwyck delivers a solid lead performance. While this is entertaining, it isn't a classic or as good as several Hitchcock films released in this era of a similar feel. "All fixations are pretense." Grade: C+/B-
Kevin Robbins
Kind of a simlar plot to Rear Window odd considering they were both released in the same year. Stanwyck does a great job playing a woman holding on to knowing that she is not going mad and did see murder.
Joe Sicari
"Witness to Murder" is another one of those Barbara Stanwyck vehicles from the 50s that isn't inspired, well-made or worth anyone's time. Stanwyck does her usual overacting and is consistently shown up by George Sanders, who is cool and relaxed in his villainous role. The film feels hastily thrown together and incomplete, which stems from an unoriginal screenplay, dull direction and haphazard editing, and it just isn't good in any aspect.
Stephen Earnest
Super Reviewer
Witness to Murder Quotes
There are no approved quotes yet for this movie.
Discussion Forum
Discuss Witness to Murder on our Movie forum!