Wolke Neun (Cloud 9)
(2008)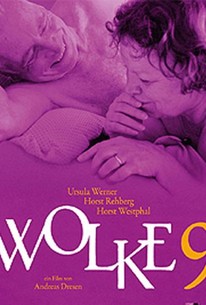 TOMATOMETER
AUDIENCE SCORE
Critic Consensus: A raw, intimate and emotional insight into romance for the superannuated featuring taboo-breaking insight into the sex-lives of the over 60s.
Wolke Neun (Cloud 9) Photos
Movie Info
A woman has to decide if she wants to stay with her husband after three decades together in this drama with a comic undertow from Germany. Inge (Ursula Werner) is an ordinary woman in her mid-sixties who is married to Werner (Horst Rehberg). Inge and Werner have been together for over 30 years, and while their relationship is still a happy one, it's clear that in most respects their lives have fallen into a rut. Inge makes extra money mending clothes for others, and when she drops off a pair of trousers for one of her customers, Karl (Horst Westphal), he invites her in for a moment. Inge and Karl sense an immediate attraction to one another, and after a few minutes together they repair to the bedroom. Unwilling to lie to her husband, Inge confesses her infidelity to Werner, but at the same time she admits she wants to continue her affair with Karl. After all their years of marriage, Werner isn't interested in an open relationship, and their daughter, Petra (Steffi Kühnert), is appalled by her mother's brazen behavior. Unable to have her cake and eat it too, Inge realizes she must choose between a man she's loved most of her adult life and one who has brought a new excitement to her autumn years. Wolke 9 (aka Cloud 9) was an official selection at the 2008 Cannes Film Festival.
News & Interviews for Wolke Neun (Cloud 9)
Critic Reviews for Wolke Neun (Cloud 9)
Audience Reviews for Wolke Neun (Cloud 9)
While it is refreshing that "Cloud 9" treats its senior characters as sexual beings, there remains the question of whether the casual nudity and graphic sexuality is meant as a celebration or that it is simply meant to shock due to its getting so in the face of the viewer. Also, of dubious credibility is why Inge(Ursula Werner) would suddenly get sexually involved with Karl(Horst Westphal) who she only knows from mending his pants, as this would run very much against her character as a good wife and upstanding member of the choir.(After the first encounter, she does hesitate talking to Karl again.) Could it be that her husband of 30 years, Werner(Horst Rehberg), is the most boring person on the planet because he enjoys listening to the sound of trains?(I love trains but not that much...) What is known is that Werner married Inge after she already had her daughter Petra(Steffi Kuhnert) and she may have married him because he was nice and could support them which really should never be the basis of any marriage. So, while there might be tenderness between them, there is little love and that might explain why Petra is doing the happy dance when she finds out, especially as this might mean her mother is finding happiness for the first time in her life.
Wolke Neun (Cloud 9) Quotes
There are no approved quotes yet for this movie.