Wolves of Wall Street
(2002)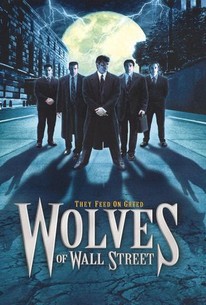 AUDIENCE SCORE
Critic Consensus: No consensus yet.
Wolves of Wall Street Photos
Movie Info
Jeff (William Gregory Lee), fresh out of college, lands a job with an established Wall Street brokerage house run by charismatic Dyson Keller (Eric Roberts), whose employees, all male, make a lot of money by being particularly cutthroat. Jeff buys into the cult only to learn too late Wolfe Brothers' secret regarding the full moon.
Critic Reviews for Wolves of Wall Street
All Critics (2) | Fresh (0) | Rotten (2)
You must be a warrior if you can sit through this without wanting to smash your television.

excellent production values create a creepy atmosphere over nighttime Manhattan while describing the cutthroat corporate world with disturbing predatory metaphor

Audience Reviews for Wolves of Wall Street
This was a pretty good movie as well. I really enjoyed it. Different from your everyday run of the mill Werewolf Movie. This one got you into it and then showed what you could have and then what it took to get out of it. I wait to see if there is going to be second one. Must see if you are into these kinds of movies.
John B
[img]http://images.amazon.com/images/P/B00008AWUC.01._SCLZZZZZZZ_.jpg[/img] Good idea; boring execution. At one point I was wondering if they were just trying to create some monotony to build suspense and then they'd unleash the "real fun". ;) But no, they were just showing the same scenes over and over and over and over again. :( I swear they showed the same shot of a full moon about 23 times! It did start good, which is why I gave it a 6/10 instead of a 5/10. I did have some fun at the movie's expense too. Anytime there's a male cast that ALWAYS looks "pumped up" I get a case of the giggles. I mean, one dude gets out of bed looking like he'd sleepwalked to the gym and spent an hour or 2 working out. Rediculous! And their boss says "I own you!!!" and he pretty much wants them to talk on the phone endlessly, hang out with cool people, party and get paid loads of cash. Wow, I'm your slave dude! :p
James Perry
Wolves of Wall Street Quotes
There are no approved quotes yet for this movie.
Discussion Forum
Discuss Wolves of Wall Street on our Movie forum!