Woman of Straw
(1964)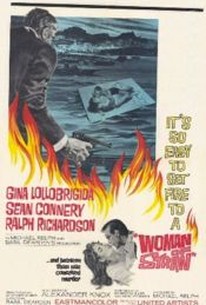 AUDIENCE SCORE
Critic Consensus: No consensus yet.
Movie Info
In this British melodrama based on a French novel by Catherine Arley, Sean Connery plays Anthony Richmond, a money-hungry young man enraged that his rich, dying uncle doesn't plan to include him in his will. Instead, Charles Richmond (Ralph Richardson) plans to give his fortune to charity. Anthony recruits a young nurse, Maria (Gina Lollobrigida), for a nefarious scheme. Her job is to care for the old man and get him to marry her and change the will so she gets his fortune. Then she will give Anthony a three-million-dollar share. Maria does her job well, but she comes to actually love Charles. ~ Michael Betzold, Rovi
Critic Reviews for Woman of Straw
There are no critic reviews yet for Woman of Straw. Keep checking Rotten Tomatoes for updates!
Audience Reviews for Woman of Straw
½
Slow paced, 2 hour suspense film of who did it. A showcase 1964 movie for Sean Connery (already as James Bond in 1962) who stars as the nephew who wants his uncle's fortune and gets a nurse to care for him and then marry him. As the uncle basically lives on a yacht, he visits various beautiful places somewhere in the Meditteranean. Too long at two hours for my tastes. Beautiful cineamatography. Sean Connery plays a nephew after his uncle's (Ralph Richardson) fortune. He convinces a nurse (Gina Lollabrigida) to marry his uncle and persuade him to change his will. Once the document is altered, the uncle dies in a "mysterious" accident, and the nurse is accused of murder. I can't get real excited about this tale thats about as old as can be, but with Connery in this most will have to see it if only for him alone. Many will recognize the name Gina Lolobrigida but know nothing of her work. She is probably confused with Sophia Loren in several ways. At first she looked like Sophia. I am not familiar with Gina's career in films, but she is pretty good in this one. A crime drama that takes half the movie to reveal itself, but Sean Connery is as James Bond looking as he could possibly be. Not used to seeing Connery be evil minded, this is a bit strange. Adapted from the 1964 novel by Catherine Arley. NOTE: Christian Dior, the name on the label of so many expensive clothes in the 70's, was costume designer for the movie. Films directed by Basil Dearden * 1940s The Black Sheep of Whitehall (1942) · The Goose Steps Out (1942) · The Bells Go Down (1943) · My Learned Friend (1943) · The Halfway House (1944) · They Came to a City (1945) · The Captive Heart (1946) · Frieda (1947) · Saraband for Dead Lovers (1948) 1950s The Blue Lamp (1950) · Cage of Gold (1950) · Pool of London (1951) · I Believe in You (1952) · The Gentle Gunman (1952) · The Square Ring (1953) · The Rainbow Jacket (1954) · Out of the Clouds (1955) · The Ship That Died of Shame (1955) · Who Done It? (1956) · The Green Man (1956) · The Smallest Show on Earth (1957) · Violent Playground (1958) · Sapphire (1959) 1960s The League of Gentlemen (1960) · Man in the Moon (1960) · The Secret Partner (1961) · Victim (1961) · All Night Long (1962) · Life for Ruth (1962) · The Mind Benders (1963) · A Place to Go (1963) · Woman of Straw (1964) · Masquerade (1965) · Khartoum (1966) · Only When I Larf (1968) · The Assassination Bureau (1969) 1970s The Man Who Haunted Himself (1970) Cast Alexander Knox Sean Connery (the nephew) Gina Lollobrigida (the nurse) Ralph Richardson (the rich uncle) Johnny Sekka Crew Production Designer: Ken Adam Costume Designer: Christian Dior Director: Basil Dearden (see above for film's made) * Costume Designer: Beatrice Dawson Editor: John D. Guthridge Cinematographer: Otto Heller Screenplay: Stanley Mann Screenplay: Robert Muller Art Director: Peter Murton Producer: Michael Relph Screenplay: Michael Relph Set Decorator : Freda Pearson Distributed by United Artists Release date(s) 1964 Running time 122 min.
monsieur rick
Gina Lollobrigida is a woman torn between greed and compassion in this mildly compelling 'thriller' from British director Basil Deardon. If you can withstand the slow start the payoff at the end is... well... modest.
Randy Tippy
Super Reviewer
Somewhat overwrought sudser is aided by gorgeous location filming and a superior cast. Ralph Richardson is wonderful as the old codger, Gina full of fire and Sean Connery suave and silky in an atypical role. Not great cinema but fun in a melodramatic way.
Woman of Straw Quotes
There are no approved quotes yet for this movie.
Discussion Forum
Discuss Woman of Straw on our Movie forum!