Woman in the Dunes (Suna no Onna)
(1964)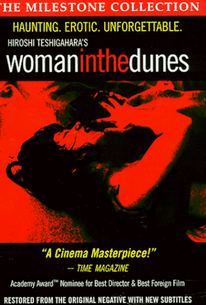 Woman in the Dunes (Suna no Onna) Photos
Movie Info
When entomologist Jumpei (Eiji Okada) travels to sand dunes on an expedition, he is met by a group of people who offer him a place to spend the night. They soon lead him to a house at the bottom of a sandpit. Upon climbing into the pit, he finds a young widow (Kyoko Kishida) living alone. Placed there by the villagers, her task is to dig sand out of the pit -- not only so that they can avoid getting buried, but so that the locals can use it for construction. The next morning, when Jumpei attempts to leave, he finds that the ladder which brought him into the pit is no longer there and the villagers inform him that he must stay and help the woman dig. After trying to get out of the pit, Jumpei takes his anger out on the woman--only to soon become her lover. After some time, he slowly gives in to accepting his predicament. This interesting story takes a simple yet effective route in philosophical allegory, focusing upon the couple's oppressive confinement and the force of their physical attraction to each other in spite of--or because of--their situation. Taken from the novel by Kobo Abe, director/producer Hiroshi Teshigahara completed this visually stunning feature on a budget of only $100,000. Winning a Special Jury Prize at Cannes in 1964, the poetic Woman in the Dunes would go on to be nominated for two Academy Awards: Best Foreign Film (1964) and Best Director (1965). ~ Kristie Hassen, Rovi
News & Interviews for Woman in the Dunes (Suna no Onna)
Critic Reviews for Woman in the Dunes (Suna no Onna)
Audience Reviews for Woman in the Dunes (Suna no Onna)
An entomologist looking for bugs (he's looking for a specific one that will make a name for him in his peer group) in the sand of a seaside town misses the last bus of the night back to town and is convinced to spend the night in the home of a young woman, who lives in a small house in a mostly inaccessible sandpit, as do most of the other townsfolk. He slowly realizes that he has been tricked and that he is to stay there permanently. Thus begins a tale that is a metaphor for humans trapped in their existence and why they choose to not change their circumstances, even when given the opportunity...or at least partially about that. There's lots going on here. Beautiful photography of the sand dunes, and a couple of rather erotic love scenes between the two main characters. There is one potential sex scene that is pretty hard to watch, a bit reminiscent (to me anyway) of the "party scene" at the end of REQUEIM FOR A DREAM. The ending is left hanging a bit, and I haven't decided if the man's decision about his situation is a postive thing or a negative one.
the film is certainly gorgeous. the sand is mesmerizing. i didn't find it as 'erotic' as some however. i got the larger point about the futility of most of our activities but i didn't like what it seems to say about male-female relationships. even if it's true! lol
Stella Dallas
Super Reviewer
There is enough symbolism here to keep a whole team of cinematic existentialists busy for months. At its core, it's a film about a man who gets trapped in a hole. Too simplistic? Probably. It's the story of an entomologist who gets captured by a group of villagers and is forced to shovel sand along side the beautiful Kyoko Kishida (I could think of far worse fates). He spends most of his waking hours plotting his escape, but the longer he's there the more he feels obligated to his hole-mate. Is he falling in love? Is he learning the meaning of true freedom? Can he figure out a way to escape? Does he really want to? Is he an 'everyman' and the hole a representation of an oppressive society? Can I find a clever way to end this review?
Randy Tippy
Super Reviewer
Woman in the Dunes (Suna no Onna) Quotes
There are no approved quotes yet for this movie.