Woman on Top
(2000)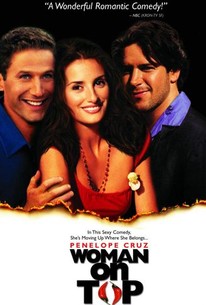 TOMATOMETER
AUDIENCE SCORE
Critic Consensus: Despite Penelope Cruz's beauty and charm, the movie is too tepid to be a romance and too silly to be believable. And the movie is too eager to please with an ending that seems more like a cop out.
Movie Info
Love, sex, and food combine in this sensuous romantic comedy. Isabella (Penelope Cruz) is a master chef who suffers from severe motion sickness, requiring her to be in control of her movements at all times. This need extends to the bedroom, but her husband Tonino (Murilo Benicio), who owns the restaurant where she works, doesn't like to make love in the fashion suggested by the title. This is hardly the only thing about their relationship that she finds stifling, and when Isabella discovers Tonino in bed with another woman, she leaves for America, where with the help of cross-dressing friend "Monica" (Harold Perrineau Jr.), she becomes a star as the host of a TV cooking show, Passion Foods Live. Woman on Top was the first American film from Venezuelan director Fina Torres. ~ Mark Deming, Rovi
People Who Like this movie also like
Critic Reviews for Woman on Top
Audience Reviews for Woman on Top
A cook moves from Brazil to San Francisco after she catches her husband cheating. Motifs of sex, food, and voodoo comprise the plots of this light-hearted fairy tale. Penelope Cruz plays a woman who is so prone to motion sickness that she can only enjoy sex if she is on top, which drives her husband into the arms of another woman. The only way such a plot is remotely believable is if one suspends all disbelief. My brain is capable of such deceptive gymnastics. Instead, I found the film's light-hearted whimsy annoying and worthy of more than one eyeroll. Cruz is sexy and fun, but into the second act, I felt that she had ceased to care as much as I. Overall, unless foolish farce is your thing, stay the hell away from this film.
Jim Hunter
Super Reviewer
Other than crazy sexy Penelope Cruz, I think Harold Perrineau was my favorite part! Sassy crossdresser. Fab! However, I think the story kinda lacked and shouldn't have ended like it did (she went back to the jerk who cheated on her?! Really?!) ... BUT! I did like the fairytale aspect of it (I'm such a sucker for that kind of stuff) and it was pretty sexy.
Jennifer D
Super Reviewer
FUCK!!!! Damn stupid film! It was going brilliantly: Penelope falls in love with Mr. handsome, slick and smooth, he treats her like crap, so she leaves and then thanks to a nifty witchcraft subplot has her love for him taken away. She goes to America where she's a success - getting her own cooking show, but husband follows and tries everything to get her back. Meanwhile she meets another guy who's genuinely decent and infinitely more likeable, but instead of bringing out "the passion" in him (this movie is all about "passion"), she undoes the spell and goes back to her ex!! Sure, to start with he lets her go on top, and doesn't shove her away in the kitchen anymore, but he never really changes and you don't believe that within a few weeks he won't be cheating on her again. All through the film I found myself wishing he would get hit by a tram (this being set in San Francisco), but no. Penelope Cruz is good in this and it does feel a tad biographical: woman goes to America to make the most of her talents but everyone just wants to see her breasts. In my head I'm going to imagine that she didn't go back with the greasy latin crooner, but as that's only in my head this film only deserves two stars.
Marcus Woolcott
Super Reviewer