Women's Voices
(1993)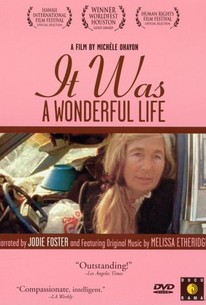 AUDIENCE SCORE
Critic Consensus: No consensus yet.
Movie Info
For the six women profiled in the documentary It Was A Wonderful Life, the emphasis is on the word was. They all went from a comfortable middle-class existence to dire poverty and homelessness when the support of their husbands was withdrawn by divorce or abandonment. Nonetheless, as a group, they have used tremendous ingenuity and perseverance in making a life for themselves and their children, despite the absence of decently paid jobs, health-insurance, or child care. Each of these women is too proud to apply for welfare, and they manage somehow to stay off the streets. The documentary has an ideological slant, promoting stronger legal protections for divorced women, especially in the area of child support. Jodie Foster narrates.
Critic Reviews for Women's Voices
All Critics (2) | Top Critics (1) | Fresh (2) | Rotten (0) | DVD (1)
Dedicated to the "hidden homeless," this is a devastating documentary, though not too deep, about middle-class women who have fallen from riches to rags.

Simple, sincere documentary about the hidden homeless is a wrenching look at poverty, sexual discrimination and crisis.

Audience Reviews for Women's Voices
A Real Eye Opener!! Where are they now?? I wish they would do a follow up so we can know if thees wimen are still homless or have made it back to normalcy or if they are even still living?? I wish oprah Wold see this and look into it and maby do a show on it cause it is still going on possibly worse now than ever ???
angel marth
interesting documentary on five or so women who are homeless. i liked it because it was unstereotypical and because i did not know much about this group of invisible homeless women. it made me believe that homelessness can happen to anyone. and to appreciate more what i got.
Lesley Kartali
½
Emotional and uplifting! Yes, the film is a little outdated, but the topic of homelessness still permeates today's society. Honestly, I have never heard of this documentary until I saw it at school just recently, and I was drawn to the lives of these women -- women who became homeless because of a bitter divorce, or bad choices made in life. There were some boring moments, but the majority were just emotional and sad. Though not depressing, it shed some light in our society's mishandling of homeless women throughout America. The film's ending was uplifting in that it shared a small update of the women who were featured in this film. Sadly, one of the women did commit suicide, and that was just awful. Overall, again the documentary is a little outdated, but it was quite educational and an eye-opener. This should be shown or use for a class project!
Robert Thach
Women's Voices Quotes
There are no approved quotes yet for this movie.
Discussion Forum
Discuss Women's Voices on our Movie forum!