Wonder Bar
(1934)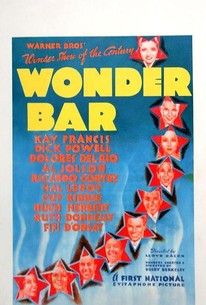 AUDIENCE SCORE
Critic Consensus: No consensus yet.
Movie Info
This off-beat but elaborate Warner Brother's musical contains scenes (one Busby Berkeley number in particular "Goin' to Heaven on a Mule," featuring Al Jolson in blackface and horrendous racial stereotypes) that may be offensive to many viewers. The tale is set within the beautiful Paris night club, the "Wonder Bar" and features many complex plots and subplots, most of which simply provide excuses for new musical numbers.
Rating:
NR
Genre:
, ,
Directed By:
Written By:
On DVD:
Runtime:
Studio:
Warner Home Video
Critic Reviews for Wonder Bar
There are no critic reviews yet for Wonder Bar. Keep checking Rotten Tomatoes for updates!
Audience Reviews for Wonder Bar
Eccentric, sometimes amazing, early Thirties confection This 1934 pre-code film had the makings of a 1930s classic: starring Al Jolson at his most energetic -- his number Vive La France, filmed live rather than synched to a sound track, gives perhaps more vividly than anything on film what he must have been like on stage -- the staff is completed by a panoply of Thirties film yeomen and yeowomen: Kay Francis, Dolores Del Rio, Ricardo Cortez, Dick Powell, and Guy Kibbee; the songs are mostly by Warren and Dubin, the production numbers by Busby Berekely. The story has something to do with Jolson's Paris caberet the Wonder Bar ("Wunderbar" -- geddit?) as a setting for an interlocking set of frustrated lovers. And yet the whole somehow doesn't gel together. Part of the problem is that the film uneasily combines a light musical with a murder mystery, giving the effect of two movies intercut with each other. And the running stock jokes and routines, obviously recycled from the vaudeville tradition, almost give the impression of a third film, a burlesque, thrown randomly into the pot. The Berkeley production numbers, while interesting, aren't as spectacular as in his masterpieces 42nd Street or Gold Diggers of 1933, Powell looks such a callow youth that he verges on parodizing his male ingenue persona, and Del Rio's habit of expressing every emotion by looking wistfully into the distance, even if she is in a small dressing room where there is no distance to look into, gets tedious after the eighth time she does it. A high point, though, is Jolson (who was born in Lithuania when it was part of Czarist Russia) singing a soulful rendition of Ochi Tchornya (Dark Eyes) in Russian. The film's reputation for shock value -- some have suggested it was one of the reasons the Motion Picture Code was implemented shortly after -- will generally seem overstated today: there are frequent double entendres, some specific references to adultery and homesexuality, a murderess who gets away with it, and an outrageous Gaucho whip dance which seems too campy for anyone to get very upset about. The really shocking sequence today, though, as anyone who has read other reviews will know, is the extended blackface production number "Going to Heaven on a Mule," which wanders through about every racial stereotype about African-Americans you can think of. I suppose it has a social value as a startling reminder of just how acceptable such racism was in America until relatively recent times. It's hard to know what rating to give this movie. As entertainment, parts of it are a lot of fun to watch, and though fairly tame by present standards, it serves as an example of what pushing the envelope was like in 1934. The 1930s women's fashions are luscious. I'd say those heavily into Thirties films, Al Jolson, Busby Berkeley, or the social history of popular cinema will find it worth watching, if they can steel themselves to sit through "Mule." Others probably will want to pass. I saw it on the Warner's Archive DVD, which seemed a satisfactory transfer of a not too bad print.
Jon Corelis
All-star cast (including Al Jolson, Dolores Del Rio, Kay Francis & Dick Powell) and two Busby Berkeley production numbers (the beautiful "Don't Say Goodnight" and the offensive "Goin' to Heaven on a Mule") incorporated into a slick but empty "Grand Hotel"-like plot.
Michael Troudt
½
Must be seen to be believed. One of the strangest films I've ever witnessed. But tread carefully: there's some TRULY offensive material here (mostly having to do with the portrayal of blacks). Still, it's an interesting window into what was once considered acceptable entertainment. The plot is a tertiary concern; the film's raison d'etre is its musical numbers, as well as some surprisingly bawdy comedy. Released just before the Hays Code would begin to become more strictly enforced, you get the sense while watching that the filmmakers were trying to break every taboo they could while there was still time. Have a look, but YOU'VE BEEN WARNED!
Steve Joseph
Wonder Bar Quotes
There are no approved quotes yet for this movie.