Wonder Wheel
(2017)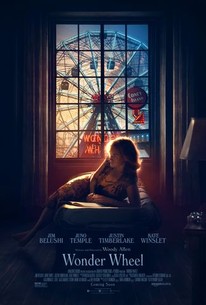 TOMATOMETER
AUDIENCE SCORE
Critic Consensus: Wonder Wheel gathers a charming cast in an inviting period setting, but they aren't enough to consistently breathe life into a Woody Allen project that never quite comes together.
Movie Info
WONDER WHEEL tells the story of four characters whose lives intertwine amid the hustle and bustle of the Coney Island amusement park in the 1950s: Ginny (Kate Winslet), an emotionally volatile former actress now working as a waitress in a clam house; Humpty (Jim Belushi), Ginny's rough-hewn carousel operator husband; Mickey (Justin Timberlake), a handsome young lifeguard who dreams of becoming a playwright; and Carolina (Juno Temple), Humpty's long-estranged daughter, who is now hiding out from gangsters at her father's apartment. Cinematographer Vittorio Storaro captures a tale of passion, violence, and betrayal that plays out against the picturesque tableau of 1950s Coney Island.
News & Interviews for Wonder Wheel
Critic Reviews for Wonder Wheel
Audience Reviews for Wonder Wheel
½
One might summarize Wonder Wheel, this year's offering by the prolific Woody Allen, as being the epitome of what many would call, "meh." "Meh" is what one would call expressing a lack of interest or enthusiasm. "Meh" is what one could define as uninspiring or unexceptional and in the pantheon of Allen-produced films over the past fifty years Wonder Wheel certainly falls into the category of "meh". That said, the visual elements that see legendary cinematographer Vittorio Storaro (Apocalypse Now, Last Tango in Paris) shooting Allen's fifties-set melodrama like it were a postcard where the colors are saturated to the point they are about to burst off the screen are fantastic and serve to be the only thing that is somewhat memorable about Allen's latest effort. The sweeping sequences that involve Storaro's re-creation of Coney Island that is partly comprised of practical effects, part location B-roll, and other part full-on digital trickery would seem to encourage the movie to immerse the viewer in this setting and yet, even as the strongest facet of the film, the location serves as little more than a backdrop. A backdrop for yet another of Allen's explorations of the kinds of characters made famous in the likes of Tennessee Williams works that he's already explored in Blue Jasmine and has probably explored multiple times before that, but my Allen filmography knowledge gets a little spotty prior to 2005 sans the obvious stand-outs. What I kind of expected from Wonder Wheel given Justin Timberlake's (yes, Justin Timberlake is your Woody Allen stand-in this time around) delivery of certain lines in the trailer was that of an homage of sorts to (or even parody of) the big melodramas of yesteryear where the actors were performing with a knowing sense of what they were going for and of letting the audience in on the fact of what they were going for. Were this true and we, the audience, ended up laughing with the movie instead of at the movie it might feel like a completely difference experience, but as it is Wonder Wheel is a movie out of touch with what it should be and what it needed to be in order to pull-off what it seemingly wanted to be. But hey, it really is visually stunning, so there's that. read the whole review at www.reviewsfromabed.com
Philip Price
Super Reviewer
Wonder Wheel Quotes
There are no approved quotes yet for this movie.
Discussion Forum
Discuss Wonder Wheel on our Movie forum!