Woodchipper Massacre
(1998)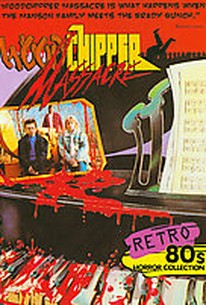 AUDIENCE SCORE
Critic Consensus: No consensus yet.
Critic Reviews for Woodchipper Massacre
All Critics (1) | Fresh (0) | Rotten (1) | DVD (2)
After sitting through the whole of Woodchipper Massacre you'll no doubt find yourself wondering how a movie this amateurish could ever find distribution. Hint: It's the title.

Audience Reviews for Woodchipper Massacre
While i enjoy independent horror movies some might not be the best , this one is just past the bad line. The acting at points could have been better but its better than many other movies. It might not be the best movie but it still entertains.
Michael Jachara
½
[center][img]http://images.rottentomatoes.com/images/movie/coverv/22/731122.jpg[/img] [left][font=Courier New][size=2]The first thing I thought when the opening frames of [i]Woodchipper Massacre[/i] started up was "Wow, this is low budget... very, very low budget." Writer/director Jon McBride's 1988 cult classic isn't a big studio release, nor is it even a small studio release. McBride, along with family, friends and a VHS camcorder set out to make their own movie. Never expecting that it would travel around the world, garnering all sorts of fans from every corner of the globe. I had heard about this film a while back, and thought it would be an interesting film to review during [b]31 Days of Halloween[/b]. While it isn't the best discovery I've had with a horror film, it is one of the most endearing ones. You can't get any lower budget than this, and I couldn't help but find the whole ordeal to be a ridiculously fun time. The acting in the film is terrible. Young, nerdy Tom Casiello can't help but look at the camera when he speaks, and he looks as if he is suppressing a laugh for most of the film. Denice Edeal always speaks at a louder volume than everyone else, which gets annoying at times. And Patricia McBride, who plays the evil Aunt Tess, was far too over the top to take seriously. But that is part of the reason why I enjoyed this film so much. All of it is so over the top, but it doesn't exceed its own limitations. And for being a film that was made for only a couple hundred bucks, the editing on the film is surprisingly well done. The music could have been a little better, but I won't hold it against the film too much. All though, the final scene where the three siblings are cleaning up the yard and trying to cover up their "massacre," the music that accompanies this scene sounds a little too 80's sitcom-like. In the end, [i]Woodchipper Massacre[/i] is going to be a film you either love or hate. There really isn't much room for a middle of the road view on the film. I would like it if more people would check this film out, but I would understand if a lot of them would end up hating the film. A curious little horror gem none the less.[/size][/font] [/left] [/center]
Bryan Gomez
Woodchipper Massacre Quotes
There are no approved quotes yet for this movie.
Discussion Forum
Discuss Woodchipper Massacre on our Movie forum!