The Work of Director Chris Cunningham
(2003)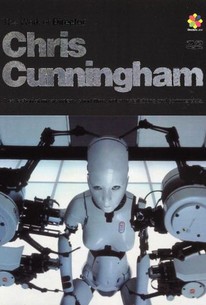 AUDIENCE SCORE
Critic Consensus: No consensus yet.
Movie Info
Part of the Director's Label DVD series from Palm Pictures, this volume focuses on the work of director Chris Cunningham. Based in London, England, Cunningham did special effects for feature films before directing his first promo video for electronic musicians Autechre. He has since directed the award-winning videos for "Come to Daddy" by Aphex Twin, "Only You" by Portishead, and "All Is Full of Love" by Björk. He has also collaborated with Squarepusher for the video accompaniment to the track "Come on My Selector." Cunningham has also been prolific in the area of commercials as well as experimental short films.
Rating:
NR
Genre:
, , ,
Directed By:
In Theaters:
On DVD:
Runtime:
Critic Reviews for The Work of Director Chris Cunningham
All Critics (2) | Fresh (2) | Rotten (0) | DVD (3)
Not long ago, filmmakers of this sort were sneered at for suckling at the MTV teat; today many of these directors are seen as the creative wizards that they clearly are.
Those expecting a complete retrospective of Cunningham's work will be disappointed. Of course, all that is missing does not tarnish the brilliance of what is included.
Not Coming to a Theater Near You
Audience Reviews for The Work of Director Chris Cunningham
½
Chris Cunningham's collection of videos is the shortest one in the series - there is only eight of them, as well as a short 'making of' and some really short extras. Those looking for quantity over quality for the price may be disappointed. Yet those who truly appreciate the artistry of producing images that correspond eloquently with sound will unquestionably admire Cunningham's unique inspired visions. He essentially visualizes his dark, hallucinatory dreams so well, they manage to complement the music instead of the common contrary. Why this madman of a director hasn't entered the film business and single-handedly reinvented the horror genre yet, remains a mystery (yes, he's that good). At that, it is obligatory to point out that the artists Cunningham has worked with aren't exactly your A-list pop-stars. Aphex Twin, for example, is notorious within his own IDM fan base, and has composed trippy soundscapes since he was 14. His work ranges from incomprehensive and pompous s*#! that sounds like he was raving on acid to graceful and unnerving electronic classics. He can be disturbingly, melancholically lyrical, but also aggressive in the worst jumbled ways. Cunningham perceives the nucleus of Aphex Twin's opuses. The 1997 'Come to Daddy' video has been famously banned from day-time MTV, as well as numerous other networks. I myself saw it in Moscow at around 2 am, and understood the reason: despite lacking offensive language, graphic violence and sex, the surreal, sputtering images enhance the terror of the song to an almost-unbearable effect. Little identical girls with Richard D. James faces? Old grandma with a pit-bull? Watch out for that sickening creature crawling out of the unplugged TV-screen! As for `Windowlicker', Aphex Twin's hip-hop influenced acidic fable - Cunningham's vision is a masterpiece, a short film of otherworldly pallid glow that takes place in LA. Notice its pitch-perfect editing (with occasional random acid-flashbacks to 'behind the scenes' in the midst of the action) and sardonic subtext. You will never forget this one. The most accessible videos on this compilation are Madonna's trancelike 'Frozen' (possibly one of her best videos yet); Portishead's 'Only You' (filmed underwater for a glorious effect); Leftfield's 'Afrika Shox' (also banned in some countries, but in all honesty it is not all that disturbing - rather peculiar and heartbreaking, but not disturbing); and the beautiful, inventive 'All is Full Of Love' from Bjork, which features reproducing robots. Autechre's video is interesting to study as Cunningham's first, 1995, venture into filmmaking. It is more experimental, and the track 'Second Bad Vilbel' is as vague as its name, yet Cunningham nonetheless manages to grasp the quintessence - there is a conclusion to the video that is both frightening and somehow thought-provoking. As for Squarepusher's 'Come On My Selector', if you thought Tom Jenkinson's speckled crazed beats cannot be portrayed visually, think again - this is one freakin' awesome video, and - well, you really gotta see this one for yourself. Check out the DVD's booklet also for the art; as for the lack of extras, in a way I think it's for the better. The magic behind the videos has to remain a mystery. What doesn't, though, is why the talented young filmmaker hasn't worked with Darren Aronofsky yet.
Alex Saveliev
½
Wow. Aphex Twin, Bjork, Playstation 2. Chances are, if you've never heard of Chris Cunningham, you're familiar with his work. Sci-fi meets horror, this stuff is creepy. Most notable known for Aphex Twin's "Come to Daddy" (although I've always been a fan of "Windowlicker"), he also did Bjork's crazy robot sex video. My favorite on this collection is Squarepusher's video, which name escapes my memory, but Cunningham manages to take a cacophony of sound and give it a visual appeal that places the song into a context that would normally been indecipherable by the human ear. Talking dogs and little girls doing kung-fu people! Leftfield's "Africa Shox" is amazing. I could go on and on. Now you need to go and rent. Most likely only available from NetFlix. [img]http://images.rottentomatoes.com/images/movie/coverv/66/215266.jpg[/img]
Ryan Son of Ander
The Work of Director Chris Cunningham Quotes
There are no approved quotes yet for this movie.