Working
(1982)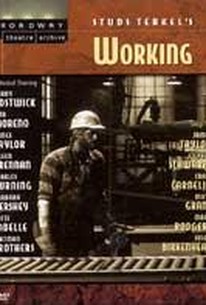 AUDIENCE SCORE
Critic Consensus: No consensus yet.
Movie Info
Rating:
NR
Genre:
On DVD:
Runtime:
Critic Reviews for Working
All Critics (1) | Fresh (0) | Rotten (1) | DVD (1)
As the show's script says, 'everyone should have something to point to.' Fans of the original Working, and of musical theater in general, can point to this particular 're-imagining' as a missed opportunity.
Audience Reviews for Working
To those spoilsports here who read Charlie Kaufman's original script to Eternal [b]Sunshine of the Spotless Mind[/b]: Get over it. It's a damn good movie. I'm one of the few non-Kaufman fanboys around here; [b]Adaptation[/b] disappointed me. And now I'm defending his newest film. That's life, I guess. It's a quite brilliant film, both in the premise and the execution, and this time it doesn't collapse in it's final act. Visually, it's an amazing film, though the destruction and alteration of Jim Carrey's memories does get old after a while; I wanted something new to be amazed by (fortunately, the part with him being bullied accomplishes this). Carrey was great, so was Winslet, and the supporting cast of Lacuna workers was amusingly batty. The film could've benefitted from a better ending... [spoiler] I mean, was it really necessary for them to listen to the tapes? I'd have preferred to just see the movie end with the restart of their relationship, but I suppose I'm just an idealist. Courtesy of dissent, I read the "second" ending, and it's intriguingly melancholy, but like I said, I don't think this is the kind of movie that would benefit from a depressing ending. The whole thing is a celebration of love, for chrissakes.[/spoiler] But anyway, that's how a non-fan of Adaptation became a big fan of Eternal Sunshine. I guess a rental of [b]Being John Malkovich[/b] is on its way... But onto more important matters: I'm back home. And I'm loving this warm weather. I'm wearing a t-shirt. A t-shirt!!! I kind of feel naked, though. What is this air that my forearms are feeling? I went back to WA for the musical and to see all my theater peeps. The musical this year was [b]Working[/b], a play that definitely defies common musical tradition. It's based on Studs Terkel's book, a compilation of conversations with the average working American, meaning that the play is basically a collection of monolagues, with some musical numbers (mostly solo pieces) thrown in for good measure. Despite being out of the ordinary, it's very entertaining. It has a tendency to be heavy-handed at times, with it's depictions of the plight of housewives, prostitutes, and migrant workers. Still, there are some great vignettes, and the final number strikes a chord in its assertion that what everyone wants is "something to point to". It was kind of strange watching all these people I knew onstage, and not being there myself. On the other hand, watching them confirmed what I had suspected for four years- we were REALLY good. Seeing everyone was great, too. And one more thing. I have a goatee. And that's all everyone was talking about, for some reason. If you care at all what that looks like, it's in the "Photos" section.
Milhouse Vanhouten
Working Quotes
There are no approved quotes yet for this movie.
Discussion Forum
Discuss Working on our Movie forum!