The World of Suzie Wong
(1960)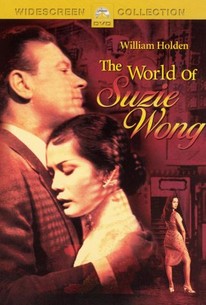 The World of Suzie Wong Videos
The World of Suzie Wong Photos
Movie Info
An American painter Robert Lomax (William Holden) travels to Hong Kong to learn more about himself and his art. He falls for Suzie (Nancy Kwan), the leader of a group of happy hookers.
Critic Reviews for The World of Suzie Wong
Audience Reviews for The World of Suzie Wong
½
Suzie Wong was a Manipulative,Gold Digging, but Exciting Prostitute(Nancy Kwan), that William Holden gets deeper involved with than he intended too.Turns out she is much more, & even less, than she seems.A Very Reluctant & Moving Love Story
Marilee Aschwanden
In certain ways even better than the similarly-themed "Love Is A Many Splendored Thing" (also starring Holden), which five-years-earlier delivered 20thCentury Fox a box-office smash that Paramount is here trying to replicate via a 'looking-glass' strategy. As opposed to Splendored's well-educated, well-bred, reserved Chinese medical doctor as Holden's love interest, Suzie Wong's a entirely different type of 'professional' - clever, proud, good-natured, trying to save face while bootstrapping herself out of poverty one client at a time. And while Fox played it straight-down-the-line installing a proven 30ish Caucasian female actress as lead (barely made Chinese on-screen), Paramount had the courage/insight to field a then-unknown 20-year-old Asian (Nancy Kwan) who delivered an endearing and career-best performance right out-of-the-gate. And here Holden's a starving artist, not a successful journalist. Spendored leans heavy on outstandingly lush mid-Century Hong Kong cinematography to engage viewers, while going lighter on character development. In this film, on the other hand, Holden and Kwan deliver much deeper. Viewers quickly develop strong empathy/interest in both characters; the sets shine mostly because these two stand within them. Though there's good gandering at Hong Kong via establishing/external shots, Wong's moreso built around set pieces from MGM's London lot. Further, Wong's a more light-hearted dramatic romance - both Holden and the audience enjoy being the disengaged viewers of the shenanigans inside the brothel where Holden's rooming - whereas Splendored's drama is far more undiluted and heavy-handed. Widescreen; Technicolor. From a 1957 novel by British writer Richard Mason, inspired by his own residency within the once-infamous Wan Chai district of Hong Kong. RECOMMENDATION: Suzie Wong's the absolutely perfect double-bill/bookend to Splendored; though the two films differ in certain respects, viewers enjoying one will undoubtedly enjoy the other. See 'em both.
TonyPolito Polito
I'm a rabid Nancy Kwan fan, so I admit to bias in this review -- I like this movie because she is in it -- because she is young, and because she is beautiful. I think this movie started my first fantasies about beautiful Eurasian women. While the story is about Asian prostitutes, Suzie (Nancy Kwan) is more than a common whore -- less than a high-priced call girl, and more like a classy rent-a-wife. She is beautiful, she knows it, and she can be choosy. She tends to stay with one client as an kept woman until it ends, or fate intervenes. Her paramours are well heeled and sometimes influential, and offer her comfort and means. But they don't offer her the human intimacy, legitimacy and marriage she knows her fallen status deny her -- that she can never achieve except in her private dreams. As an older, starving artist with limited means, Robert Lomax (Wm Holden) would ordinarily have little chance with her. Yet by employing her as a model for his paintings, Suzie comes to respect him as a tender and caring human being who cares about her as a person, and not just as a sex object. That Lomax falls in love with Suzie is no mystery. Young, beautiful Asian girls are a continuing source of fantasy for men. And the older the man is, very often the stronger is the fantasy. But Asian women more often choose a man for the material comfort he can provide her. So Suzie's choosing of Lomax, despite his obvious limitations on wealth, makes it a love story. She gives him the only gift she has to bestow -- herself, without a price tag on it. It is for Suzie, a very special gift. Lomax's white, upper class circle of friends in Hong Kong don't necessarily frown on Asian mistresses -- as long as they are kept discreet. But they don't readily accept them into their circle of public acquaintances either. While Lomax is becoming infatuated with Suzie, he does not like her lifestyle, and this understandably causes him to doubt her as a viable life partner. But then losing her to a rival reveals to him that he has fallen inextricably in love with her. Lomax pursues Suzie, and wins her back. The movie ends with them back together, but the novel continues on with the Lomax's struggles with Suzie's past, and his lingering doubt about Suzie's loyalty and commitment to him. If I have one criticism about the storyline, it is that Suzie's child by a former paramour is killed off by a convenient typhoon. My experience in real life is that children of such relationships are all too often abandoned. By killing off the child, the often difficult social complication of such children is avoided. I have through my years come to know many such couples as Robert Lomax and Suzie Wong. And I have even had my own version. Many times it works out, but more often it does not. I especially like this movie, not because it is realistic, which it is not, but because it is a story of hope and realization of that hope, which I suppose caters to my own fantasies, and lends some optimism to them
Simon Mouer
The World of Suzie Wong Quotes
There are no approved quotes yet for this movie.
Discussion Forum
Discuss The World of Suzie Wong on our Movie forum!