The World Unseen
(2008)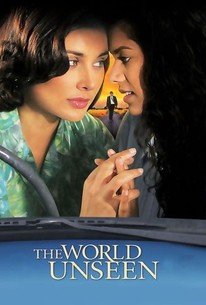 Movie Info
Set in 1950s South Africa at the beginning of apartheid, free-spirited Amina has broken all the rules of her own conventional Indian community and the new apartheid-led government, by running a café with Jacob, her black business partner. When she meets Miriam, a young wife and mother, their unexpected attraction pushes Miriam to question the rules that bind her to a traditional role. As Amina helps Miriam's sister-in-law to hide from the police, a chain of events is set in motion that changes both women forever.
Critic Reviews for The World Unseen
Audience Reviews for The World Unseen
½
An interesting movie! Set in 1950's South Africa, Miriam and Amina meet, and are instantly intrigued by each other. Miriam is a housewife, and a mother of three children. She abides her husband's every wish, and conforms herself to the upholding of her home. Dealing with her husband's adulterous affair with her sister-in-law, she finds motivation in taking risks and learning to do things on her own. Amina is unmarried, and runs a store with her business partner, Jacob. Carefree and independent, Amina tends to tempt the boundaries of the law. Indifferent to the opinions of others in the Indian community, Amina wishes only to live life the way that she seeks to. The personalities that mark each individual enables, and draws, them together. Great cast- Sheetal Sheth, Lisa Ray, Parvin Dabas, Nandana Sen, Nathalie Becker, David Dennis, Grethe Fox, Colin Moss, and Roderick Priestley. Worthy!
½
Beautiful directorial debut with great (and stunning!) lead actresses. Unfortunately too concerned with conveying as much of the book as possible, the transition from the great novel to the screen wasn't entirely successful in terms of storytelling. The cinematography and cast is very good, and for a first film this is extremely well done. Overall a heartfelt narrative set in Apartheid South Africa, centered around a tender lesbian romance, but also filled with interesting glimpses into Apartheid realities. I just discovered that "I can't think straight" was actually shot before this, so ignore the part about the debut... Two very good films in a row, kudos to Shamim Sarif.
The World Unseen Quotes
There are no approved quotes yet for this movie.