The Worm Eaters
(1977)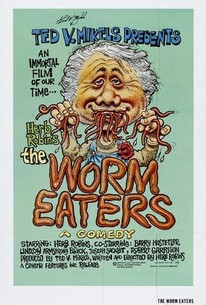 AUDIENCE SCORE
Critic Consensus: No consensus yet.
Movie Info
Earthworms are an excellent source of low-fat protein. Just ask the eccentric, half-crippled nightcrawler farmer who heads this off-beat, low-budget horror film that is guaranteed to make some viewers squirm. He eats the slippery little critters all the time, and he's fiddle fit--but for the fact that he is slowly turning into a annelid himself as did the three fishermen who ate bass that had gorged themselves on the farmer's crops. The real trouble in the film begins when avaricious developers try to steal the breeder's land and put condos upon them. The breeder, when not sucking down scads of the little soil-eaters, contacts the fishermen, and they agree to help him, but only if he will create three wormy women for them (apparently no one has told them that earthworms are hermaphroditic and can breed with themselves).
Critic Reviews for The Worm Eaters
All Critics (2) | Fresh (0) | Rotten (2)
An acutely confused vehicle for writer-director-star Herb Robins to film one of his most memorable childhood fever-dreams.

City Pages, Minneapolis/St. Paul
Audience Reviews for The Worm Eaters
Bad-movie lovers, beware ?. Your standards will have to be set extremely low in case you want to remotely enjoy Herb Robins' "The Worm Eaters". This movie, produced by one of the über-gurus of crap cinema Ted V. Mikels ? is BEYOND bad! It has an irredeemably dumb plot, a totally incoherent narrative structure, humorist elements that are horrid and horror elements that are painfully hilarious. It's easily one of the worst movies ever made, and it is truly incomprehensible how the hell it managed to build up a rather solid cult status over the years. Probably this exclusively has to do with the fact that Herb Robins insisted on using real, live worms for the on screen consumption. Much of the footage is just close-ups of people (often with really terrible dental hygiene) slurping down & chewing up worms, and the only goal is to disgust and gross-out the audience. Robins himself stars as the dim-witted hermit Umgar, living in a lakeside shed in a corrupted little town. He collects and breeds worms ? and then feeds them to his opponents, like the town's council members that want to evict him and reclaim the lake zone. The consumption of the worms somehow transforms people into man-worm hybrids. "The Worm Eaters" introduces a seemingly endless series of demented supportive characters and ? obviously ? all the actors and actresses overact incredibly. The make-up effects are pathetic, as the hybrid monsters are simply imbeciles tightly wrapped in filthy brown sleeping bags and desperately trying not to use their feet when they crawl through the mud. But, as wrong as it may sound, the film isn't entirely without merit and there really are a couple of positive elements. Like the goofy but cheerful theme music ("You'll end up eating worms"), the creative animated opening credits and some of the gags that look like Benny Hill sketches. In conclusion, "The Worm Eaters" will undoubtedly one of the most bizarre low-budget, Z-grade schlock productions you'll ever encounter, so be careful who you recommend it to.
Cassandra Maples
Super Reviewer
The Worm Eaters Quotes
There are no approved quotes yet for this movie.
Discussion Forum
Discuss The Worm Eaters on our Movie forum!