Wrestlemaniac
(2008)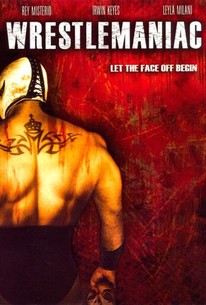 AUDIENCE SCORE
Critic Consensus: No consensus yet.
Movie Info
When an amateur porn film crew takes a wrong turn while driving through Mexico, they quickly discover that the local legends concerning a murderous luchadore may have some element of truth in this bloody horror film. They were driving down a dusty road when they decided to make a wrong turn in the middle of nowhere, and now it's beginning to look like they may never find their way back to civilization. Upon pulling into the windswept ghost town of "La Sangre De Dios," the crew begins hearing whispers of a psychotic luchadore named "El Mascarado" who tears the faces off of his victims and leaves them to bleed to death. As the darkness falls and the crew gets frisky, no one notices that they're all about to become pawns in the most brutal death match ever staged.
Critic Reviews for Wrestlemaniac
Audience Reviews for Wrestlemaniac
The tone of the one is lighthearted and cheesy. Not a bad thing at all, especially since this does seem to be aware of itself, and doesn't mind what it is. Story is a crew of amateur pornographers get lost in the sticks of Mexico. Upon finding themselves lost they pull into an abandoned gas station where a coke headed dude of questionable sanity points them in the direction their looking for, but not before warning them of the dangers that will await them that way. The Danger being a weird sorta Mutant wrestler, who lives to tear anyones face off who enters HIS ghost town. What follows should be fairly predicatable, and it is. Nothing wrong with that when the results are as entertaining and over the top as they are here. An easy movie to watch, and one that is highly enjoyable for horror fans, or anyone who likes cheesy over the top violence really. Recommended.
Ed Fucking Harris
Super Reviewer
½
One of those low budget horror films that almost feels like it could have been made in the early 80's. Very cheesey, quite funny in a way. It could almost fit the it's so bad it's good category. One for the low budget horror fan.
This was fairly original. It introduces one of the most original horror villains in a long time. The story is mediocre, but the on screen killings make up for it. The movie was a lot of fun to watch, filled with descent acting and some cool death and suspenseful scenes, this is a film not to miss. Though not that memorable like the slasher films of the 1980's, Wrestlemaniac offers up a taste of it. So if you're looking for a decent Horror Slasher film to watch, Wrestlemaniac is one that might interest you. So if you have nothing else better to do, step into the ring, and wrestle with this maniac!
Wrestlemaniac Quotes
There are no approved quotes yet for this movie.