POV
(2006)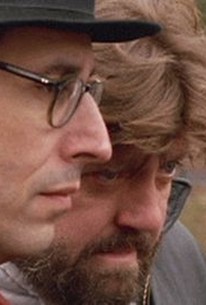 TOMATOMETER
AUDIENCE SCORE
Critic Consensus: While not a particularly deep look at the man and his career, this documentary still serves as a nicely done introduction to Kushner.
Movie Info
Documentary filmmaker Freida Lee Mock explores the rich life of Pulitzer Prize-winning playwright Tony Kushner in a film that traces Kushner's career from his 2001 play +Homebody/Kabul through his 2004 collaboration with Maurice Sendak on a revised version of +Brundibar. A trip to Kushner's hometown of Lake Charles, LA, provides a personal touch as the playwright attends his father's birthday party, with quiet scenes in his Hudson River Valley retreat offering moments of thoughtful meditation that stand in stark contrast to his harried Manhattan business dealings.
Rating:
NR
Genre:
, ,
Directed By:
Written By:
In Theaters:
On DVD:
Runtime:
Studio:
News & Interviews for POV
Audience Reviews for POV
½
Freida Lee Mock ([i]Maya Lin: A Strong Clear Vision[/i]) latest feature-length documentary, [i]Wrestling with Angels[/i], covers a turbulent, three-year period in playwright Tony Kushner's life, beginning days before September 11, 2001 as Kushner prepared [i]Homebody/Kabul[/i], a prescient examination of a "clash of civilizations" in modern-day Afghanistan, through his marriage in 2003 to his life partner, Mark Harris, the premiere of his most recent theater piece, [i]Caroline, Or Change[/i] off and on Broadway, Kushner's political activism through the November 2004 presidential elections, and many points in between. Openly gay and politically progressive, Kushner choose an unlikely path for his creativity, making politically charged theater without giving in to polemics or sermonizing, mindful of the need to entertain first and educate or enlighten theatergoers second. Tony Kushner, of course, is best known for the seven-hour, two-part play [i]Angels in America: A Gay Fantasia on National Themes[/i] he wrote. [i]Angels in America[/i] received a Pulitzer Prize, Tony Awards for Best Play in 1993 and 1994 (for the two parts, "Millennium Approaches" and "Perestroika," respectively), and two Drama Desk Awards. Kushner later adapted [i]Angels in America[/i] into a multi-part miniseries for HBO. Not surprisingly, the adaptation won Golden Globe and Emmy Awards for Best Miniseries in 2004. Despite the title, [i]Wrestling with Angels[/i] doesn't focus exclusively or even primarily on [i]Angels in America[/i] and when it does, it's on the HBO adaptation that Kushner was then working on. Appropriately enough, Mock divides [i]Wrestling in America[/i] into three "acts." Act I, "As a Citizen of the World," explores Kushner's progressive ideals and social and political activism tempered by pragmatism (he supported and voted for John Kerry in 2004). Act I includes an excerpt from a scathing, one-act play, [i]Only We Who Guard the Mystery Shall Be Unhappy[/i], featuring Marcia Gay Harden as the well-intentioned, if clueless, former-librarian-turned-First-Lady Laura Bush as she reads a children's story to dead Iraqi children. Act II, "Mama, I'm a Homosexual Mama," covers Kushner's concerns with gay-specific issues, as well as his personal experiences coming out to his family and friends. Act II follows Kushner as he returns to his birthplace in Louisiana and a birthday celebration for his father. Kushner discusses his father's difficulty with his homosexuality, the estrangement that his father's rejection caused, and eventually, the reconciliation that brought them back together after his father accepted Kushner's sexual orientation. Kushner's father was both a critical voice and a key supporter during the development of [i]Angels in America[/i]. Act III, "Collective Action to Overcome Injustice," examines Kushner's Jewish background, its impact on his work, and his social and political activism through excerpts from [i]Why Should It Be Easy When It Can Be Hard[/i], a play about Jewish immigration and generational conflict, and Kushner's collaboration with Maurice Sendak, the author and illustrator of [i]Where the Wild Things Are[/i] and [i]In the Night Kitchen[/i], children's classics both. Sendak approached Kushner to translate and adapt a Czech children's opera, [i]Brundibár[/i]. [i]Brundibár[/i] received its debut in 1943 at Theresienstadt, a concentration camp in Czechoslovakia. Few of the children who performed in the opera survived. The only record or testimonial of its debut is, ironically enough, a Nazi propaganda film. As, at best, a limited biography, [i]Wrestling with Angels[/i] is closer to hagiography than documentary. While Kushner's contribution to the American theater is assured through [i]Angels in America[/i], his later efforts haven't been as successful, either critically or commercially. While Freida Lee Mock gives us Kushner expressing his disappointment at the negative reviews of his newer material, a human enough response that makes Kushner more sympathetic and, therefore, more likable, we barely get glimpse of what other playwrights or critics think of his post-[i]Angels in America[/i] work or what the early success of [i]Angels of America[/i] may have had, positively or negatively, on Kushner's subsequent, lesser-celebrated work or the controversy surrounding the screenplay he co-wrote with Eric Roth for Steven Spielberg's [i]Munich[/i] last year.
Mel Valentin
POV Quotes
There are no approved quotes yet for this movie.