The Wrong Arm of the Law
(1963)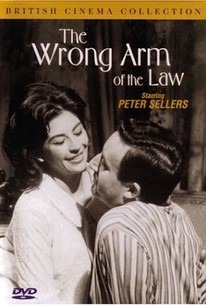 AUDIENCE SCORE
Critic Consensus: No consensus yet.
The Wrong Arm of the Law Videos
The Wrong Arm of the Law Photos
Movie Info
When a gang of London thieves, disguised as policemen, begin robbing other thieves....well, that's just not cricket. Benevolent burglar Peter Sellers, the man in charge of all "respectable" crooks in town (he even offers such incentives as a vacation plan and filmed training sessions!), sets about to ascertain how the renegade criminals have received inside information concerning upcoming robberies. He arranges a temporary truce with Scotland Yard so that both criminal and constable can work together in nabbing the miscreants. Alas, he must now contend with incompetent peacekeeper Lionel Jeffries, who poses an even greater threat than the "mole" who's been tipping off the phony cops (who is closer to Sellers than he'd ever suspect). Short, simple and sweet, the black-and-white Wrong Arm of the Law manages to pack more solid laughs than any three of Sellers' later overproduced Technicolor vehicles combined. ~ Hal Erickson, Rovi
Critic Reviews for The Wrong Arm of the Law
There are no critic reviews yet for The Wrong Arm of the Law. Keep checking Rotten Tomatoes for updates!
Audience Reviews for The Wrong Arm of the Law
½
Great for Sellers fans, this black and white caper comedy has British accents/slang to deal with and not so amusing script to follow. Note: A young Michael Caine has a small and uncredited role as a young PC. [img]http://t2.gstatic.com/images?q=tbn:ANd9GcRWXhaR_Z610F6Nn7I9M7TignOGMzgZX2-aHEl6EMdBFY09X4td[/img] Before The Pink Panther series we have this Peter Sellers creation in 1963. Half way through the 90 minute film was awkward for me at best, tedious at worst. SEE the trailer here for an idea of the film: www.youtube.com/watch?v=NajbyyBbwfE [img]http://t2.gstatic.com/images?q=tbn:ANd9GcQktlUwBfKWfsqTWXqj-bhCcF_HlMRuimG9pAhVV7komFL_CjcQ[/img] Early Peter Sellers comedy who runs a burglery gang through his front as a French speaking shop owner for woman's gowns. Here we see the early idea of a French detective Closeau. But this time he is really gangleader Pearly Gates, who is a English burgler kingpin who fancies himself benevolent as a gang leader and wants to form a corporation of local criminals. [img]http://t1.gstatic.com/images?q=tbn:ANd9GcRMwI-gR176yLz5nqEpz5ZURuP8YkkUqJiAsj2G9js0-7EBGRF8[/img] But thats not enough to make this a rotten film. It isn't that its a bad film. It's no doubt quality made and acted. Rather, its a bit hard to dicypher the dialog of criminal slang of 1960's Britain society. [img]http://t3.gstatic.com/images?q=tbn:ANd9GcQuhJ4zJmq7-bWKnlUl_PB2vOuVHj7Ls7WEx9qd4fHuxDsGKBDDZg[/img] Plus, the story spends half the movie showing various skits where a gang moves into town and dresses as police only to run off with stolen jewels during various heists. SEE the film in its entirety here: http://www.youtube.com/watch?v=MEet2P4GItw [img]http://t3.gstatic.com/images?q=tbn:ANd9GcTPZgzz7YKPcV6od72Aqhd5gdRRWhYhPpIS8soBBFThHzk2t6aF[/img] NOTES: 1 The film was one of the 12 most popular movies at the British box office in 1963. 2 PLOT: In London, a gang of criminals from Australia led by Jack Coombes (Bill Kerr) impersonate policemen to carry out robberies. Local gang leader "Pearly" Gates (Sellers), who operates from the cover of a French couturier, finds his takings cut severely, and blames rival crook "Nervous" O'Toole (Bernard Cribbins). When it emerges that they are both being scammed by the same gang, they join forces, along with Lionel Jeffries' Police Inspector "Nosey" Parker, to bring the so-called "I.P.O. mob" (I.P.O. - Impersonation of a Police Officer) to justice. 4 A young Michael Caine has a small and uncredited role as a young PC. [img]http://t3.gstatic.com/images?q=tbn:ANd9GcSDstGToX_Mt_pba3YPUU4jVyfVPw_VMvSe1xBQAd8zsltMkoA5[/img] Scotland Yard's commisioner meets with the gangs on a carosel at the request of Pearly Gates (Sellers) to join forces Cast Peter Sellers as Pearly Gates Lionel Jeffries as Nosy Parker Bernard Cribbins as Nervous O'Toole Davy Kaye as Trainer King Nanette Newman as Valerie Bill Kerr as Jack Coombes Ed Devereaux as Bluey May Reg Lye as Reg Denton John Le Mesurier as Assistant Commissioner Graham Stark as Sid Cooper Martin Boddey as Superintendent Forest Irene Browne as Dowager Arthur Mullard as Brassknuckles Dermot Kelly as Misery Martin Vanda Godsell as Annette Tutte Lemkow as Siggy Schmoltz Barry Keegan as Mr. Pointer Directed by Cliff Owen Produced by E.M. Smedley Aston Aubrey Baring Written by John Antrobus Ray Galton Len Heath Music by Richard Rodney Bennett Cinematography Ernest Steward Editing by Tristam Cones Studio Romulus Films Distributed by British Lion Films (UK) Release date(s) March 1963 (UK) Running time 94 minutes Country United Kingdom Language English [img]http://upload.wikimedia.org/wikipedia/en/thumb/8/8d/The_Wrong_Arm_of_the_Law_poster.jpg/220px-The_Wrong_Arm_of_the_Law_poster.jpg[/img] More to follow......
monsieur rick
½
A criminal syndicate joins forces with the police to foil a gang impersonating police officers in this nostalgic British caper comedy that has an idea of cops and robbers you would not see outside of The Beano these days. Peter Sellers does his usual loveable rogue, up against Lionel Jeffries' usual self-important buffoon in a world where crime syndicates are like a union of old lags, who share a gentleman's agreement with the police, and happily sit down to discuss shop with them over a nice cup of tea and a couple of angel cakes. In fact the reason I found this film amusing was not so much the jokes, but the way the "villains" would happily go quietly with unarmed bobbies, just because they tapped them on the shoulder and said "'Allo 'allo 'allo, you're nicked!"; Guy Ritchie it ain't! Never more than mildly amusing, but a pleasant enough trip down memory lane to a past that probably never existed in the first place.
The Wrong Arm of the Law Quotes
There are no approved quotes yet for this movie.
Discussion Forum
Discuss The Wrong Arm of the Law on our Movie forum!