The Wrong Box
(1966)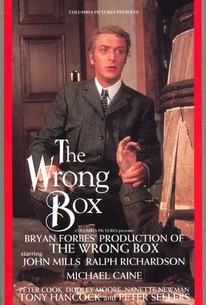 Movie Info
In this film, the parents of several British boys place 1000 pounds in a pool, to be invested and expanded upon. The resultant fortune will go to the last surviving member of the tontine. Finally, only two of the tontine participants are left: aged brothers with murder on their minds.
Rating:
NR
Genre:
Directed By:
Written By:
In Theaters:
Runtime:
Studio:
Columbia Pictures Corporation
Critic Reviews for The Wrong Box
Audience Reviews for The Wrong Box
After watching the DVD of the remains of their BBC show "Not Only... But Also", I was convinced that Peter Cook and Dudley Moore was the greatest comedy duo since Laurel and Hardy. After watching The Wrong Box, I'm still convinced of it. There is a tiny bit of business that Cook and Moore do in The Wrong Box that had me laughing harder than anything else in the movie. It's during a rather dry expository speech in which Cook shares his diabolical plan with Moore. They stand very close. Occasionally, Cook touches the tip of his finger to Moore's nose very lightly, after which Moore, slightly bothered, rubs his nose. Cook then touches the tip of his finger to Moore's nose again, and Moore rubs it. Cook does this three or four times. There is no comic build to it, there is no Rule of 3 capper, there is no explosion of "STOP TOUCHING MY NOSE!" Moore just lets it happen, ever so slightly bothered, and it all just sits there without any explanation. It's hard to believe by my dry recount of it, but it's fracturingly funny, and I'd bet a million bucks it wasn't in the script, but added by Cook and Moore during the shoot. Their instincts were impeccable, their ability to enhance each other's talents was astounding. Of course, Moore went on to become a big star, but neither of them was funnier than when they had the other to work off. The Wrong Box is a very funny movie, but I wouldn't put it into "classic" territory. It was written by Larry Gelbart and Burt Shevelove, American writers. Gelbart had moved to London to oversee the West End production of A Funny Thing Happened on the Way to the Forum, which he had co-written, and ended up staying for nine years. The Wrong Box feels distinctly British, there is no American quality to it at all, and one wonders just how much of that was Gelbart's talent for his adopted country and how much was producer and director tweaking, the sausage-making process all scripts go through after they're sold. There is a rather convoluted plot that never satisfactorily resolves. The film is more about the characterizations, like many of the better British comedies. Some performances really stand out, apart from Cook and Moore. Of course, Peter Sellers comes through with a hilarious and, if you give it a moment's thought, horrifying portrayal of a corrupt, down-and-out doctor who willingly sells an uncompleted death certificate to Peter Cook's character. Morris Finsbury (Cook): I was wondering - do you by any chance happen to have any - uh - death certificates? Doctor Pratt (Sellers): Do I happen to have any death certificates? What a monstrous thing, sir - what a monstrous thing to say to a member of the medical profession! Do you realize the enormity of what you have just said? Morris Finsbury: Yes. Do you have any death certificates? Doctor Pratt: How many do you want? Perfectly structured and performed joke, this. The other performance that struck me was Ralph Richardson's performance as the pedantic Joseph Finsbury. He plays an agreeable fellow that chatters on and on in wearying, encyclopedic detail on any subject that crosses the transom, utterly oblivious that he is enervating all who are stuck listening to him. This is the kind of affable but crashingly dull persona that Michael Palin perfected in Monty Python with his Mr. Pither/Arthur Putey type characters. I wonder if there are other predecessors to this character that I don't know about. Somewhere in Dickens or Sterne, I'll bet.
½
Not often bwa-ha-ha funny but a collection of skilled British comedians poking fun at conventions of manners. And at dead bodies. The great opening bit of how members of a money-awarded-to-last-survivor pact called a tontine met their demise was an admiring homage to Kind Hearts and Coronets. An extra half-star for Peter Sellers' contribution in one of his funniest small roles as the unethical addle-brained cat fancier Dr. Pratt.
Doctor Strangeblog
Super Reviewer
Really really funny. Seeing Peter Cook and Dudley Moore ham it up is just icing on the cake. :)
Tim Salmons
Super Reviewer
The Wrong Box Quotes
| | |
| --- | --- |
| Peacock: | That's dead, that's what that is. |
| | |
| --- | --- |
| Michael Finsbury: | This is Julia Finsbury. Soon to be Julia Finsbury. |
| | |
| --- | --- |
| Dr. Pratt: | I was not always as you see me now. |
Discussion Forum
Discuss The Wrong Box on our Movie forum!