The Wrong Road
(1937)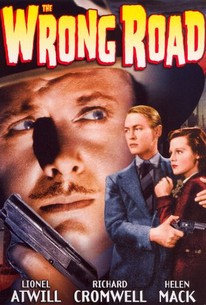 AUDIENCE SCORE
Critic Consensus: No consensus yet.
Movie Info
In this crime drama, a young couple decides to rob the bank where the woman works as a teller. They get 100,000 dollars and hide it in a music box. Unfortunately, they are caught and sentenced to prison. Upon their release, the two hope that the money will still be in the little box, which they left with an antique dealer. Unfortunately, the dealer died and they must frantically scramble to find the missing fortune. In the end, they do find it, but decide to turn it in to the authorities and go straight.
Critic Reviews for The Wrong Road
There are no critic reviews yet for The Wrong Road. Keep checking Rotten Tomatoes for updates!
Audience Reviews for The Wrong Road
½
RT's review or synopsis of this is so WRONG. The woman did not work as a bank teller, the MAN did. And they didn't "unfortunately get caught", they turned themselves in knowing that in a few years they would benefit from the 100,000 dollars they mailed off to a third party. Naive couple are from wealthy families but not reaching the high society they thought they were "entitled". The lead character is an engineer who was so disappointed as being a 3 year bank teller. But he concocts the idea that he and his girlfried are due a "independent" status in society, one free from economic want. So, he thinks its better to rob the bank and surrender, and then she could wait for him as he serves a few years in prison. Holy smokes, what a stupid, stupid plot. How naive do these writers think moviegoers are? Who does this sort of thing in the REAL world? At any rate, if we ignore that huge flaw in the plot, this turns out to be rather entertaining if only to two real young, in love naive young adults get in a whole lot of trouble. Too bad it gets mired in detail about everyone trying to get the loot. Half way through the film all everyone is trying to do is get the money, the kids, the bank, the insurer, the police... its a real bummer to watch the hassle that emits from this bogus tale of get rich quick characters. What does the title mean, M. Rick? : This one is easy. These two characters, naive and stupid young lovers, think they can hide 100,000 dollars (in 1937) after their term in prison. Money is misery, and this tale proves it. Find this film any way you can, but for starters: http://www.archive.org/details/wrong_road / Cast Richard Cromwell as Jimmy Caldwell Helen Mack as Ruth Holden Lionel Atwill as Mike Roberts Horace McMahon as Blackie Clayton Russ Powell as Chief Ira Foster Billy Bevan as McLean Marjorie Main as Martha Foster Rex Evans as Victor J. Holbrook Joseph Crehan as District Attorney Arthur Hoyt as Beamish, bank teller Syd Saylor as Big Hobo Selmer Jackson as Judge Chester Clute as Dan O'Fearnasee Directed by James Cruze Produced by Colbert Clark Written by Gordon Rigby (screenplay and story) Eric Taylor (writer) Cinematography Ernest Miller Editing by William Morgan Distributed by Amblin Entertainment Fox Searchlight Pictures Release date(s) 11 October 1937 Running time 62 minutes 53 minutes (American edited version) /
monsieur rick
I was really excited about the fact this movie came from my newly obtained Mill Creek Mystery Classics 100 Movie Pack, A real good deal at Amazon. This is a 1937 film about a couple who work at a bank that they rob, planning on hiding the money only to recover it upon there release. 2 years past, they are released and then there trouble begins, This one can be seen on the net at places for free. Its worth 3 stars,
Bruce Bruce
Super Reviewer
½
The Wrong Road Starring: Richard Cromwell, Helen Mack, Lionel Atwill, and Horace MacMohan Director: James Cruze Jimmy and Ruth, a young, down-on-their-luck couple (Cromwell and Mack) steal $100,000 from Jimmy's employer that they intend to live off it once they get out of prison. A private detective charged with recovering the loot (Atwill) believes they are just a pair of desperate kids deserving of a second chance, and he arranges their early parole. As he encourages them to give back the money, a coldhearted, murderous criminal (MacMohan) is stalking them in the hopes of getting the loot for himself. "The Wrong Road" is so heavy-handed in delivering its "crime doesn't pay" and "it's never to late to reform and become a law-abiding citizen again" messages that it borders on the goofy educational films that were so popular in the 1950s and 1960s (and even into the 1970s, because I remember watching a few...). However, a cast far classier and talented than is usually found in that sort of films, and a fast-moving story that actually has some tension to it makes it better than the educational shorts and film-strips it resembles. The best part of the film is Atwill's character. Private detective Mike Roberts is almost a proto-Colombo, with his ability to pop up in Jimmy and Ruth's path at just the right (or wrong, depending on your point of view) moment, and his technique of annoying the criminals into coming clean. This isn't a movie I recommend anyone search out, but if you should see it listed in a multi-film package, don't let its presence discourage you from considering getting it if there's another film you're interested in. "The Wrong Road" may not be terribly good, but it's short and it's watchable.
Steve Miller
The Wrong Road Quotes
There are no approved quotes yet for this movie.
Discussion Forum
Discuss The Wrong Road on our Movie forum!