WWE: Edge - A Decade of Decadence
(2008)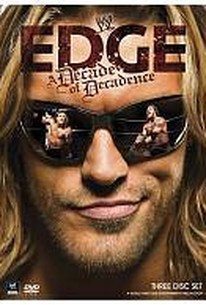 AUDIENCE SCORE
Critic Consensus: No consensus yet.
Movie Info
Rating:
NR
Genre:
On DVD:
Runtime:
Critic Reviews for WWE: Edge - A Decade of Decadence
There are no critic reviews yet for WWE: Edge - A Decade of Decadence. Keep checking Rotten Tomatoes for updates!
Audience Reviews for WWE: Edge - A Decade of Decadence
Edge DVD Set 3 Disc DVD Collection (2008) The countdown to WrestleMania 26 continues.....**** days to go! Today I'll be reviewing "Edge: A Decade of Decadence", the DVD collection that is a character-driven story about Edge's career and origins. Edge's DVD set is different from the styles previously reviewed which began with documentaries and then went into the matches. This set consists of the selected matches in order interlaced with introductions by Edge chewing popcorn and some background on events going on inbetween. What's even more disappointing is that Edge spends pretty much the whole time in character presenting himself as a conceited in-ring performer. I had hoped we'd learn more about Adam Copeland the person and his background as you do with Shawn Michaels or Mr. McMahon or Bret Hart. For instance, the drama with Amy Dumas, a diva known onscreen as Lita who was Matt Hardy's real life girlfriend that left Matt for Adam. In the Twist of Fate Matt & Jeff Hardy DVD Set, each brother gets his own disc and Matt's story went into that in detail so hearing the other side of the story for comparison (like you can do with the Montreal Screw-Job hearing Shawn Michaels, Bret Hart, and McMahon's sides on their DVDs) would have been very interesting. This set shows the story angle side without pulling back the curtain. It begins with Edge's motivation and training with the usual stories of hardships and having to sleep on blue mats after wrestling. But this is the closest you get to seeing the man behind the character. Most matches run straight together but those that have interludes between them are done in promo form as blockbuster previews for the superstar Edge. Edge himself is munching popcorn watching in the few moments where he comes in himself. I think the decision to go the character route has something to do with the fact that at the time of the DVD release, Edge was an arrogant heel and they didn't want to break the fourth wall. Since then after his character dumped Vicky Guerrero and returned from injury to win at the Royal Rumble, Edge has turned total babyface. Matches: Do you see just how MANY matches there are in this collection? There are so many matches, there isn't very much time to tell stories inbetween or have a narrative. There is a ton of content if you are a match-lover, but for those who love the story like me, it's underwhelming. As far as the matches go, he doesn't always pick ones he wins to go in this set, for example, his very first singles match is here against Owen Hart where he lost (but put up a good fight of course). Then it transitions into some great tag team matches, some of which I've seen elements of in the Ladder Match DVD Set. He eventually goes on to face classic heroes like Mr. Perfect and fight alongside his idol, Hulk Hogan (his face looks like a kid in a candy store during this match). The formation of Rated RKO with Randy Orton eventually leads to a match against him as well (They don't have any matches of them actually as a tag team). In general, Edge is another exciting performer to watch. Most of his skills are in stipulation matches like Ladders, or TLC, and my ultimate favorite move is his spear because he builds it up hanging out in the corner with the gigantic facial expressions screaming "come on.....come on!!!" I always get into that moment. A wrestler's face sells moves more than any other body part both giving and receiving so Edge is top notch in reactions. I enjoy him as an underhanded dirty heel sneaking into matches and stealing the championship as well as his fun promos as a babyface. My favorite promo of all time is the "big fat failure turtle" promo. Here is a rundown of the matches: Edge vs Owen Hart - 1998 Breakdown Edge & Christian vs New Brood - 1999 No Mercy Edge & Christian vs Hardy Boyz vs Dudley Boyz - 2000 Wrestlemania Ladder Match Edge vs Lance Storm - 2001 SummerSlam Intercontinental Championship Edge vs Test - 2001 Survivor Series Champion Unification Match Edge vs Mr. Perfect - 2002 Judgment Day Edge vs Kurt Angle - 2002 Steel Cage Match Edge & Hulk Hogan vs Billy & Chuck - 2002 Tag Team Championship Edge vs Eddie Guerrero - 2002 Unforgiven Edge vs Randy Orton - 2004 Vengeance Edge vs Shawn Michaels - 2005 Street Fight Edge vs Kane - 2005 Gold Rush Tournament Edge vs Matt Hardy - 2005 Street Fight Edge vs John Cena - 2006 New Year's Revolution WWE Championship Edge vs Mick Foley - 2006 WrestleMania 22 Terry Funk, Tommy Dreamer & Beulah vs Mick Foley, Edge & Lita - ECW One Night Stand Edge vs Rob Van Dam vs John Cena - 2006 WWE Championship Edge vs John Cena - 2006 SummerSlam WWE Championship Edge vs Rob Van Dam - 2007 Money-in-the-Bank Qualifier Edge vs Randy Orton - 2007 Raw Edge vs Undertaker - 2007 World Heavyweight Championship Edge vs Batista - 2007 Vengeance World Heavyweight Championship Edge vs Rey Mysterio - 2008 Royal Rumble World Heavyweight Championship Edge vs Undertaker - 2008 One Night Stand TLC World Heavyweight Championship Edge vs Undertaker - 2008 Hell in a Cell (I was THERE!!) DVD Extras: The extras consist of some extra footage of Edge and Christian and some matches that didn't fit into the story flow of the DVD collection. "The Totally Awesome Best of Edge and Christian" - This is some of the best footage of the comedy between Edge and Christian! They wear silly costumes, play theme songs on kazoos, have lots of cake, get foot poisoning from their nuts, and antagonize the other wrestlers. I laughed so hard, this is probably the BEST part of the entire DVD set. Adam Copeland vs Christian - 1997 Cornwall, ON Edge vs Jeff Jarrett - 1999 Intercontinental Championship
Gina Wagner
WWE: Edge - A Decade of Decadence Quotes
There are no approved quotes yet for this movie.