X-Men: Days of Future Past
(2014)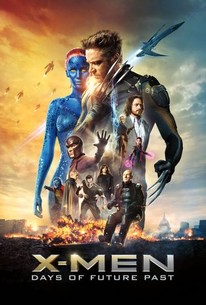 TOMATOMETER
AUDIENCE SCORE
Critic Consensus: X-Men: Days of Future Past combines the best elements of the series to produce a satisfyingly fast-paced outing that ranks among the franchise's finest installments.
X-Men: Days of Future Past Videos
X-Men: Days of Future Past Photos
Movie Info
The ultimate X-Men ensemble fights a war for the survival of the species across two time periods in X-MEN: DAYS OF FUTURE PAST. The beloved characters from the original "X-Men" film trilogy join forces with their younger selves from the past, "X-Men: First Class," in order to change a major historical event and fight in an epic battle that could save our future. (c) Fox
News & Interviews for X-Men: Days of Future Past
Critic Reviews for X-Men: Days of Future Past
Audience Reviews for X-Men: Days of Future Past
Lord knows that the X-Men franchise has had it's ups and downs throughout the years. From the lowest of the lows to the highest of the highs, each individual film has impacted viewers in many different ways. Each film stands on it's own. Juggling directors through the years, each and every film seems to have it's own agenda and feel, which is ultimately the case in the final product. "X-Men: Days of Future Past" proclaims the very height of this franchise, meshing the new and the old, to create what is arguably the best X-Men film to date. What are known as the Sentinels are wreaking havoc on planet earth and the X-Men of the present that we have all grown to love through the original films, must band together to prevent this from happening. Kitty discovering she has the power to send the consciousness of others into previous versions of themselves, they decide to send Logan (Wolverine) back to when the Sentinel program was first created, thus creating the mix of new and old characters. James McAvoy, Michael Fassbender, Jennifer Lawrence, and Nicholas Hoult (to name a few) all return and are better than ever in their respective roles. They have all shared great chemistry in the past from what we have seen in "X-Men: First Class," but the stakes of solidifying their future seems to be greater than all of them. Recruiting the help of other mutants, breaking the law, and doing everything in their power to complete the task at hand, this film is crazy amounts of fun, while also featuring many scenes of dramatic heft that will keep even the most average of moviegoers engaged. Once again, the standout scenes of this film are usually the ones that include interaction between Charles and Erik, but the biggest standout is easily the glorified cameo of the character Peter Maximoff. His abilities are incredible and his action sequences are so much fun and full of energy that you can not help but become giddy as you feast your eyes. As far as flaws go, there are little things to nitpick here and there, but the film itself exists to right the wrongs of the poor entries in this series, so that deserves all the credit in the world. In the end, this film harnesses what has always made this films great and dials all of the best elements up to eleven. Bringing back Brian Singer to helm this project was definitely the best decision the studio could have made in order to keep this new series on track. Great direction, fantastic editing styles, and cinematography that is out of this world at times, there are very few things to complain about and the ones that are, are not even worth mentioning. "X-Men: Days of Future Past" is unanimously one of the greatest X-Men films to date, and in my opinion, it is the sole best. I can not get enough of this terrific superhero flick. As far as superhero films go, this is pretty much as good as it gets.
½
An exhilarating, urgent and bold new chapter that doesn't shy away from the possibilities and consequences of its time-travel premise, and Singer keeps the stakes always at the highest while maintaining the focus on the multilayered aspects of the "mutant rights" battle.
Carlos Magalhães
Super Reviewer
Wow. You could feel the chemistry smouldering between Jennifer Lawrence and Michael Fassbender: "It's been a long time since we were this close. I've missed you." ... "Don't lie to me!" "I never have. And I never will." Would love to see them together in another film!
Letitia Lew
Super Reviewer
X-Men: Days of Future Past Quotes
| | |
| --- | --- |
| Charles Xavier/Professor X: | She left becuase you got inside her head. |
| Erik Lensherr/Magneto: | That's not my power. |
| | |
| --- | --- |
| Erik Lensherr/Magneto: | You built these weapons to destroy us. Why? |
| | |
| --- | --- |
| Charles Xavier/Professor X: | Just because someone stumbles and loses their path, doesn't mean they're lost forever. |
| | |
| --- | --- |
| Logan/Wolverine: | You wanna pick all that shit up? |
Discussion Forum
Discuss X-Men: Days of Future Past on our Movie forum!