X-Men: Pryde of the X-Men
(1989)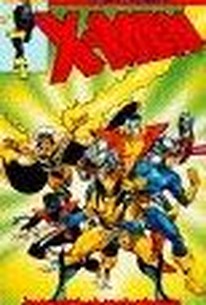 AUDIENCE SCORE
Critic Consensus: No consensus yet.
Movie Info
Based on the same Marvel comic book series that spawned the 2000 box-office blockbuster X-Men, this short animated film was originally a pilot for a planned animated program that was never picked up. Narrated by comic book legend Stan Lee and directed by Ray Lee, the man behind such classic 1980s cartoons as G.I. Joe and Jem!, X-Men introduces audiences to the titular mutated superheroes by highlighting the initial induction of Kitty Pryde (aka Shadow Cat) into the elite organization. Featuring the voice talents of Michael Bell and Neil Ross, X-Men was also released under the title Pryde of the X-Men.
Rating:
NR
Genre:
, , , , ,
Directed By:
Written By:
Runtime:
Critic Reviews for X-Men: Pryde of the X-Men
There are no critic reviews yet for X-Men: Pryde of the X-Men. Keep checking Rotten Tomatoes for updates!
Audience Reviews for X-Men: Pryde of the X-Men
A bold, faithful and cohesive television adaptation of the Marvel Comic Book 'The Uncanny X-Men', which is one of the world's most beloved comic book series. 'Pryde of the X-Men' is not a series, but rather just a twenty minute story, that stands as an appetizer for what would have been an interesting animated series if it wasn't discontinued. The show manages to create an engaging narrative for kids and adults, and introduces a digestible amount of heroes and villains, whilst scratching the surface of character dynamics, social themes and political connotations that were deeply explored within the comic books. This adaptation became a strong inspiration for the successful and long running X-Men Animated Series of the 1990's. The show's X-Men line-up reflects the line-up of the1980s era, and consists of leader and mentor Professor Xavier, the brave commander Cyclops, the kind but demonic-looking Nightcrawler, the mighty-strong and metallic Colossus, the maternal and powerful Storm, and the grouchy and lethal Wolverine. The team also features the acrobatic and pretty Dazzler, an interesting inclusion on the team, as well as new recruit, Kitty Pryde, the main protagonist of the show, and the youngest of the bunch who is struggling to control her mutant powers. They must work together to defeat the powerful Magneto, and his evil brotherhood, who wish to destroy the world. It is both refreshing and enlightening to have these characters come to life, both visually and sonically, and to receive them in the way they have been interpreted. The only negative aspects of this adaptation is that this series was one of the first to adapt a comic book onto the silver screen, and so a lot of experimentation is evident. Most obvious is the fact that Wolverine, a character that is traditionally Canadian, has been interpreted here as an Australian. His characters traits of rage and impatience come across as mean and irritable, especially due to his unacceptance of new recruit Kitty Pryde. But this only demonstrates how the X-Men are made up of outcasts and loners, and soon reinforces the message of acceptance, unity and tolerance. The other negative aspect from this show is how it stopped after only one episode, and so all the characters whom were introduced were never fully explored, until the fresher animated series of the 1990s. Overall, this adaptation was a decent effort, both enjoyable and honourable to its origins. It deserves more credit, critical acclaim and success than it has received.
Luka Lakicevic
That's right folks, it is X-Men Week and what better way to start this week off than to review the infamous pilot that never became a show. The title is a pun on the character Kitty Pryde, the youngest X-Man in the group. One of the big reasons why this show never came to be is because after this pilot was delivered, Marvel Comics started having financial issues during the 80's due to poor comic book sales. Soon after this was canned, Marvel started selling the media rights to their characters so other production companies would buy them up and make their own comic book cartoon shows. Which is why you will never see any Spider-Man, X-Men, & Fantastic Four characters mingling in any Avengers movie for another 30-40 years. So today I am just going start off light and deliver a quick review on this diamond in the rough. The show carries a really well quick exposition into who and what mutants are in the first 6 minutes and does not waste any time on the action. Most of the voice acting in here is okay, for your generic eighties cartoon show, however I was not to fond of the White Queen's witch-like accent and Wolverine's Australian accent. Which is ironic because it wasn't until another decade later that another Australian actor played Wolverine again in the first movie which stuck for fourteen years. There are also a couple of characters that seem to be out of place like White Queen as a member of the Brother of Mutants and Lockheed somehow being on Asteroid M with no real explanation, but I would have to assume that it would have if the show got picked up. At times this episode can be a little rushed with Kitty Pryde going through everything in just a matter of one day. Overall, it's your fun little eighties cartoon episode in all of its cheesy glory. Though this pilot did end up bittersweet, it did however come back in one of the most awesome video games to ever be conceived.
John Painter
X-Men: Pryde of the X-Men Quotes
| | |
| --- | --- |
| Narrator: | This is it, true believers, unless the X-Men can stop Magneto mankind is doomed! |