X, Y & Zee
(1999)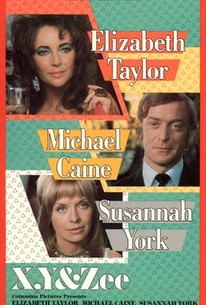 Movie Info
Originally released under the title Zee and Company, this film follows the chaotic events that take place when the jealous, brash Zee Blakeley (Elizabeth Taylor) discovers that her mild-mannered architect husband, Robert (Michael Caine), is having an affair with a young widow, Stella (Susannah York).
Rating:
R
Genre:
, ,
Directed By:
Written By:
In Theaters:
Runtime:
Critic Reviews for X, Y & Zee
Audience Reviews for X, Y & Zee
½
Brilliant and incredible acting by Caine/Taylor/York. A really wild ride that depicts desperate people in a embarressing yet necessary situation. Well done and worth it. A dysfunctional marriage deals with the "other" woman. For those that like Liz Taylor and Michael Caine, this could not be more "fun". Michael Caine tires of Liz Taylor in their marriage and openly suits Susannah York, an attractive blonde dress designer with two twin boys. [img]http://t0.gstatic.com/images?q=tbn:ANd9GcTia83mjANizmToPzWf9qo1_WtgHMKk1tD76773UWUKwAWvf76X[/img] Things get pretty nasty early in the film The film starred Elizabeth Taylor and Michael Caine as a middle-aged, bickering couple whose marriage is on its last legs, and Susannah York as the woman who comes between them. Margaret Leighton was also featured in a supporting role as a dizzy socialite. Here is a clip from an early part of the film when Taylor knows York is seeing her husband in an early phase of their relationship: www.youtube.com/watch?v=YMt7JZkzZuE I found this one captivating, if not for the story but for Michael Caine and Liz Taylor scratching each other's eyes out. A date is arranged to bring a new woman into Caine's life but Liz Taylor as wife is there to witness it. Recommended for bickering married couples or those that wish to become one. Better film than most for me and fun to watch for the costuming and lifestyles of the era, the early seventies. [img]http://t0.gstatic.com/images?q=tbn:ANd9GcSZOlk4-wSZQC_GuIESRFIKdSKQFI60hqmuol7v3kYIUcrcSbrNlw[/img] York and Taylor at York's dress shop The title X is for Caine, Y is for York and ZEE is Liz Taylor's name in the film. The title is a concise summation of the film since its about these three poor souls caught up in an agonizing love triangle. The most NOT credible parts of the film arise from the three going to dinner, meeting at Caine's home with Taylor present, things like that. Taylor is spewing nasty dialog throughout the film and Caine fires back equally witty or appropriate responses. [img]http://t3.gstatic.com/images?q=tbn:ANd9GcQ0CXGWt7OlK_CpRih7q1RHaPpdtzdbrXfGUqysyEvwkr2G1OF9[/img] This film takes extra-marital relationships to a whole new level. But for the sake of watching it IS interesting and not ever boring for those interested in a drama. REVEIWS: 1 Roger Ebert said that while the movie is "no masterpiece" it still satisfies audiences as it "unzips along at a nice, vulgar clip". 2 Michael McWilliams cited Taylor's work as "her greatest movie performance" and called the film "outrageously funny" . 3 Leonard Maltin said the film was "contrived [and] often perverse," with the Elizabeth Taylor/Susannah York love scene ranking "high in the annals of poor taste," Cast Elizabeth Taylor - Zee Blakeley Michael Caine - Robert Blakeley Susannah York - Stella Margaret Leighton - Gladys John Standing - Gordon Mary Larkin - Rita Michael Cashman - Gavin Gino Melvazzi - Head Waiter Directed by Brian G. Hutton Produced by Elliot Kastner Jay Kanter Alan Ladd Jr Written by Edna O'Brien Release date(s) 21 January 1972 Running time 110 minutes Country United Kingdom [img]http://t1.gstatic.com/images?q=tbn:ANd9GcTONBH5ePFnjS7isjVhFjKCIC5nptyXSBLWdtM40mzjiIEA4q4IPA[/img]
monsieur rick
Middling drama that doesn't really take advantage of its trio of stars. Liz is stuck in harridan mode again.
X, Y & Zee Quotes
| | |
| --- | --- |
| Robert: | (to Zee) Wouldn't you like to chew on a bone or something? |
| Robert: | Wouldn't you like to chew on a bone or something? |