Xiu Xiu: The Sent Down Girl
(1999)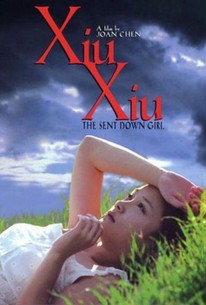 Xiu Xiu: The Sent Down Girl Photos
Movie Info
Actress Joan Chen makes her directorial debut with this bleak tale, adapted from the award-winning novella "Tian Yu" by Shanghai writer Yan Geling, about the loss of innocence during Mao Zedong's brutal Cultural Revolution. Precocious Wen Xiu (16-year-old Lu Lu), playfully called Xiu Xiu by her friends, finds herself one of millions of Chinese teenagers sent to the hinterlands to receive specialized training during the early 1970s. She is taken from her loving family in Chengdu to the Tibetan steppes, where she is apprenticed to Lao Jin (Lopsang), a solitary master horseman whose legendary status stems partly from his prowess on the range and partly from an embarrassing secret resulting from a battle injury. Though life is hard on the high grasslands, the sheer physical beauty of the landscape, coupled with Xiu Xiu's youthful vibrancy, reinvigorate the quiet horseman. He soon falls for the young girl, although, thanks to his wound, he will never be able to consummate his love. Meanwhile, Xiu Xiu longs to return to her family in Sichuan. Her growing desperation, coupled with her own naivete, leave her vulnerable to the opportunistic scheming of a traveling peddler, who takes her virginity while promising her quick passage back home. Soon lecherous bureaucrats and others venture out to Xiu Xiu's remote yurt with the promise of free sex. The young girl willingly prostitutes herself, believing that it is the only way to see her beloved family again, while Lao Jin suffers silently, watching his love defile herself. Only after a medical emergency does Xiu Xiu realize how callously she has been used and cast aside. Joan Chen's dark work fits in a subgenre of Chinese art and cinema that explores the horrors of the Cultural Revolution, whose most famous examples include Tian Zhuangzhuang's Blue Kite (1993) and Zhang Yimou's To Live (1993). Though this film was screened in the 1998 Berlin Film Festival, it was banned in China for sexual and political content.
Rating:
R (for strong sexual content)
Genre:
,
Directed By:
Written By:
In Theaters:
On DVD:
Runtime:
Studio:
Stratosphere Entertainment
Critic Reviews for Xiu Xiu: The Sent Down Girl
Audience Reviews for Xiu Xiu: The Sent Down Girl
½
A directorial debut by Joan Chen. Although it sets in the borderland while the Cultural Revolution, it is not directly about it - not like other films setting in this period of time by Chinese directors like Yimou Zhang and Kaige Chen. It is about love, or something deeper than that (an ultimate form of love), under an extreme circumstance between a man of nomad who is castrated and a girl sent down to help him and later become to do prostitution to go back to the city where she is from. Frankly speaking, it is much inferior to those films by Zhang or Chen in terms of technique, like composition of shots or choice of shots, lighting, etc., but it still has a lot worth to see. There are several shots of the heroin which are breathtakingly beautiful - like other female filmmakers, Chen films a girl in the way that a male director never can. Also, the film is full of splendid symbolism - such as apples, scenery of the grassland, space inside the tent, etc. Excellent use of symbolism is now proper to Chinese art films. If the film could describe more carefully how the hero and the heroin gets the special bond to each other deeper and deeper, the conclusion would be much more sound. The two actors, Siaolu Li and Lopsang, did good jobs, although they look lil bit amateurish in some parts.
Naoya Kugimiya
½
A politically charged and highly metaphorical/symbolic piece of work. Placed slightly above the subtext is a simple yet charming story of a girl living in isolation with an older man. If she is ever to see the city again Xiu Xiu is convinced she must perform sexual favours on the wealthy elite. It's a very tragic story and one where even the protagonist begins to lose sight of her goals. Lopsang gives a wonderful and genuine performance. Towards the end the film starts to become repetitive and too preachy. Some wonderful photography makes this a must see just to absorb the epic environments.
Luke Baldock
Super Reviewer
I can understand the importance of this film but despite it's wonderful metaphors and beautiful compositions I didn't find it to be masterful and worth watching again.
Aaron Nix
Xiu Xiu: The Sent Down Girl Quotes
| | |
| --- | --- |
| Wenxiu (Xiu Xiu): | If you want to get back to Chengdu, you need these people on your side. |
| | |
| --- | --- |
| Wenxiu (Xiu Xiu): | Are you really going to spend your entire life raising horses? |
| Lao Jin: | They raise me, too. |