xXx: Return of Xander Cage
(2017)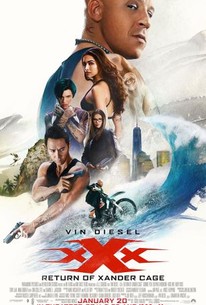 TOMATOMETER
AUDIENCE SCORE
Critic Consensus: xXx: Return of Xander Cage should satisfy fans of the first two installments, but its preponderance of set pieces can't quite make up for a tired storyline that fails to take the franchise -- or action fans -- anywhere new.
xXx: Return of Xander Cage Videos
xXx: Return of Xander Cage Photos
Movie Info
The third explosive chapter of the blockbuster franchise that redefined the spy thriller finds extreme athlete turned government operative Xander Cage (Vin Diesel) coming out of self-imposed exile and on a collision course with deadly alpha warrior Xiang and his team in a race to recover a sinister and seemingly unstoppable weapon known as Pandora's Box. Recruiting an all-new group of thrill-seeking cohorts, Xander finds himself enmeshed in a deadly conspiracy that points to collusion at the highest levels of world governments. Packed with the series' signature deadpan wit and bad-ass attitude, "xXx: RETURN OF XANDER CAGE" will raise the bar on extreme action with some of the most mind-blowing stunts to ever be caught on film.
News & Interviews for xXx: Return of Xander Cage
Critic Reviews for xXx: Return of Xander Cage
Audience Reviews for xXx: Return of Xander Cage
Vin Diesel attempts to revitalize an older property using the same magic (and even, concept) as his beloved Fast & Furious saga, but it ultimately becomes an epic flop. xXx: The Return of Xander Cage may have some outlandish action and notable names and faces in pop-culture but it doesn't cover the blemishes of an uneven plot, cheesy dialogue and predictability. 2/5
Eugene Bernabe
Super Reviewer
Some people have been wanting to see a different angle on [i]James Bond[/i], perhaps diversifying the main role, well look no further. Yes I realise its a bit old hat to label this franchise as a mere Bond clone, but hell...in this movie they even go as far as to clone a classic Bond moment. That moment being the immortal sequence where Ursula Andress strides out of the sea in her white bikini. Said sequence was then cloned (or paid homage to) by Craig Daniels in 'Casino Royale', and now we have Vin Diesel doing the exact same thing in this movie. So what's this movie all about? Well not a lot really, and that's just one of the movies problems. The basic plot surrounds the CIA recruiting Xander Cage (again) because they need him to track down and find a mcguffin that can control and bring down satellites from orbit like missiles. Yes Xander Cage was thought to be dead but low and behold he's not, because of course. Get used to nonsense like this because in this franchise apparently no one dies, they could come back at any time. So the bad guys who have stolen this mcguffin are of course a small diverse band of villains consisting of Xiang (Donnie Yen the martial artist). Talon (Tony Jaa the kickboxing martial artist), Serena Unger (Deepika Padukone an Indian actress) and Hawk (Michael Bisping a British MMA fighter). To combat these guys Xander brings in his own little diverse band of misfits consisting of Harvard Zhou (Kris Wu a Chinese model/singer/actor). Adele Wolff (Ruby Rose an Australian model/DJ/actress/TV presenter), and Tennyson (Rory McCann a Scottish actor). Anyone else notice that the special forces team Xander is originally offered and rejects (before bringing in his own team), seemed to be all black guys apart from one guy. And the jungle rave scene that had men and women of various races...except for white blokes. Just my observations. Anyway I'm not having a go at diversity but when you have these little teams of people that appear to be so painfully and obviously picked so as not to upset anyone and to try and include literally everyone, it just comes across as kinda daft. Dare I say unrealistic, but Christ what am I saying, look at the movie I'm reviewing here. The intro sequence sees Gibbons (Samuel L. Jackson) trying to recruit fecking Neymar Jr. for flips sake! For anyone not in the know he's a soccer/football player. But yeah, five minutes into the movie and I almost switched off. The entire intro is an utter shambles of stunt doubles, greenscreen and CGI, its horrendous garbage. Cage climbs and then jumps off some huge aerial tower with skies attached to his feet. He then proceeds to land perfectly in the jungle and skiing down the hills through the thick undergrowth. He then picks up his personal skateboard from some shack and proceeds to whip down the mountainous road dodging oncoming traffic or just bouncing off it. At the end we see his skateboard actually has his xXx logo on it. I swear it was some 'Batman and Robin' shit right there. Amazingly I expected the movie to continue along this absurd line of bullshit but I was actually wrong! The movie does in fact take time to try and build something of a plot. It of course totally fails because this movie literally has no villains. What do I mean? Well the small band of diverse bad guys I mentioned turn out to be Triple X agents and are in fact trying to do the same thing as Cage. Yes there is indeed another villain in their midst, not hard to work out really, standard plot twist stuff. But when you do find out you'll also realise what I mean by this movie having no real antagonist. But going back to my original take, a Bond clone/rip-off, yeah it kinda is really. It has all the standard spy guff that you'd expect including a young sexy female equivalent of Bond character Q. There is nothing new here, stupid stunt sequences like riding motorbikes with skis on water, jumping out of planes with no chutes, fighting on top of moving trucks, fighting on a highway in traffic, getting hit by cars but not getting injured, slow motion gun battles by the sexy female characters etc...All this but with shitty looking CGI and shitty looking greenscreen work. Oh and to top all that, Ice Cube makes a cameo when the good guys are in trouble...but then just disappears into obscurity again. Why would his character just pop up for one shoot out and not help out further? Why wouldn't his character be in the entire movie? Honesty I can't remember the original two movies in this franchise. I know the second was more of a straight to DVD affair but the first movie was better than this surely? This doesn't even feel like a stand alone movie, it just feels like a [i]Fast and Furious[/i] spin-off flick. Hell this movie and the newer FaF movies are virtually the same shit! Just a bunch of over the top action sequences slapped together around a flimsy, non-existent plot. Stick in a load of half naked girls, rap/hip hop music and rave/party sequences where everyone looks sweaty and voila! Apparently movies like this make lots of money nowadays. This movie was so artificial, simply aiming to be hip, trendy and cool (über marketable to impressionable teens). All style no substance, tacky, lazy, definitely not sexy and definitely not cool. Just cringeworthy on every level.
Phil Hubbs
Super Reviewer
½
I'm going to do my absolute best to leave personal bias out of this review, but in all fairness, personal bias really won't be necessary. When you go into a film like XXX: Return of Xander Cage, if you're expecting a masterpiece filled with incredible action, you might as well spend your money elsewhere; However, the latter half of that statement (at least for myself) was very present throughout this film. I enjoyed XXX when it was released (nearly 15 years ago now), but they really drove this series into the ground with the second instalment, leaving out Vin Diesel and bringing in Ice Cube as another agent. For that reason, I was very skeptical about them continuing this franchise, but I have to admit, I'm glad they did. If you are with the critics on how much they hate this film, you might as well stop reading now, because I admittedly had a blast watching this film. Here is why I believe XXX: Return of Xander Cage was unfairly reviewed by critics. The plot of this film is about as cookie-cutter as you can get. Thought to be dead over the years since his appearance in the first film, Xander Cage returns and is whisked back into action with his new team in order to track down a device called Pandora's Box. A few plot elements arise throughout, but that's really all viewers need to know. This franchise has always been about its extravagant set pieces (XXX: State of the Union not withstanding), but they have always been extremely cheesy. Although there are quite a few unbelievable action sequences, this film feels far more grounded than the others and many more hand-to-hand combat sequences are presented here. There was a real sense of fun, mixed with tension and dumb humour, that I found myself grinning from ear to ear most of the time. Easing the audience back into the feel of the original film by beginning with Jackson's portrayal of Augustus Gibbons, fans of the original will very quickly know what type of film they are in for. That being said, just as fast as the old cast is introduced, new faces are brought in just as urgently. It was very clear when watching this film that the filmmakers truly wanted to turn this into an ongoing franchise like Fast & Furious. Sadly, due to poor performance (for the most part) at the box office, I can't see that happening, but who knows. If they can continue the momentum and even up the anti that this third instalment delivered, I'm all in. Here is where the film gets a little rocky, even though I think most reviewers go a little overboard in critiquing this area of the film. You are supposed to sit back and have fun with a film like this, so when our main characters sit around a table playing Russian Roulette with grenades, surf the seas on motorcycles, or jump out of planes without parachutes, you should be applauding in your head while you smile at the pure stupidity and ridiculousness of it all. As much as I loved all that, I do have to admit that there are some pretty horrendous lines of dialogue delivered by most of the cast here. I cringed at a few of them, completely taking me out of the film, but aside from that, this film is made for pure fun and that's exactly what it is. Nothing more and nothing less. This movie is dumb, plain and simple. If you go into it expecting anything else, then you will definitely be turned off. That being said, this is the best kind of dumb there is. It's the kind of film that understands what it is and embraces the terrible dialogue and wooden plot, compensating with quite a lot of kick-ass action sequences and a likeable bond (even though not much screen time together) between Vin Diesel and Donnie Yen. Where critics have this wrong is that this film is dumb and nothing else. There is a huge entertainment factor here, much larger than I was expecting. The trailers make this film look much cornier than it actually is, because the cheesy lines fit their context very well. I can see where the low grades are coming from, but this is a film that deserves a lot more credit in my opinion. Mindless entertainment at its finest in today's day and age.
xXx: Return of Xander Cage Quotes
There are no approved quotes yet for this movie.
Discussion Forum
Discuss xXx: Return of Xander Cage on our Movie forum!