Y2K
(1999)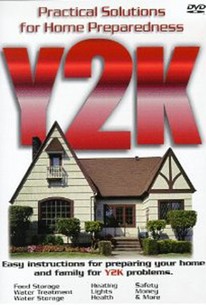 AUDIENCE SCORE
Critic Consensus: No consensus yet.
Movie Info
"What if they're right?" screamed the ad copy for the TV movie Y2K, referring to the millions of otherwise rational, level-headed people who lived in mortal terror that virtually every computer in the world would malfunction on December 31, 1999, because of an imbedded inability to "read" the year 2000. As it turned out, of course, "they" were wrong, and no worldwide technical meltdown occurred: but the producers of this film, which originally aired November 21, 1999, on NBC, were clearly not above exploiting everyone's panic over things to come to make a few bucks. In traditional disaster-flick fashion, the film offers a multitude of subplots with several different sets of main characters, all of whose lives will be profoundly altered by the cataclysmic events of Y2K. Likewise adhering to tradition is the notion that only one man is capable of saving the world from plunging into a computerized abyss. That man is MIT-trained "systems failure" expert Nick Cromwell (Ken Olin), who on the eve of the new millennium races against time to prevent a nuclear disaster in New York City -- one that threatens to dwarf a similar reactor meltdown that occurred a scant few hours earlier in Sweden. To juice up the suspense, the script contrives to place Cromwell's wife Kelly (Jane McGregor) and daughter Alix (Kate Vernon) in jeopardy while dad is off being a hero. The film's level of credibility reaches a crest when Jay Leno makes a cameo appearance as himself. Seen from the vantage point of the post-9/11, post-Hurricane Katrina era, Y2K seems as quaint and naïve as a 1908 Biograph one-reeler -- perhaps even more so.
Audience Reviews
There are no featured reviews for Y2K at this time.
Y2K Quotes
There are no approved quotes yet for this movie.