The Yacoubian Building (Omaret yakobean)
(2006)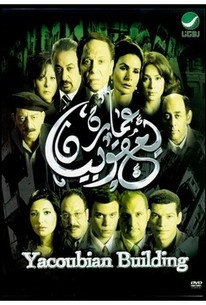 The Yacoubian Building (Omaret yakobean) Videos
The Yacoubian Building (Omaret yakobean) Photos
Movie Info
This epic drama tackles controversial issues, including the taboo of homosexuality, while exploring the lives of tenants in a Cairo apartment building.
Rating:
NR (violence, language, nudity)
Genre:
, ,
Directed By:
In Theaters:
On DVD:
Runtime:
Studio:
Critic Reviews for The Yacoubian Building (Omaret yakobean)
Audience Reviews for The Yacoubian Building (Omaret yakobean)
The worse Egyptian movie I've ever seen. OK granted the only Egyptian movie I've ever seen, so technically it is also the best, but it is really quite bad. There isn't much to say about a film where gay men turn homosexuals because they were abused as children and the only option in life for a young beauty is to marry a 60-something failure living in the shadow of his dead father, himself a greedy official. Thoroughly bad, to be avoided at all cost, you'll get more insight about modern Egypt in a documentary about king Tut.
Ben Gui
½
While it was commendable how the film stuck closely with the important themes of sexuality, religion and politics as in the novel, it was less subtle in the treatment of them, almost to the point I felt like it had changed the meaning of what the novel had implied. This was especially so in the portrayal of the gay character. The movie did run on longer than it should have, but the acting was decent and the depiction of what was the Egyptian way of life was insightful.
Eerie to see a film about the same block in downtown Cairo that one spent some time walking around in. This film, a semi-epic of Modern Egyptian life, at least its metropolitan form, is now almost an institution in itself, in how it is invoked and also how the chic set in Egyptian intelligentsia deride it (as I heard in a conversation in Zamalik). Still, despite its flaws, which may derive from the novel, of how it introduces cliched explanations for such things as homosexuality, and how some plot devices seem very predictable, the film is still a must-see to taste Egypt as it is in the recent past. Great in revealing the decaying grandeur of Cairo, not just its architectural majesty, but of a certain class of Europeanate sophisticate - the type still hanging on to his/her noblesse oblige - but without moorings, adrift in modernity.
Arin D
The Yacoubian Building (Omaret yakobean) Quotes
| | |
| --- | --- |
| Rasheed Hatem: | Dear dad and mom, shut the fuck up!!! |
| Rasheed Hatem: | Dear dad and mom, shut the fuck up! |