The Yankee Clipper
(1927)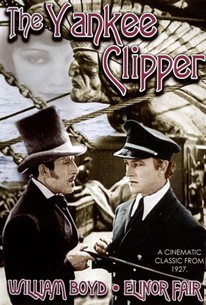 AUDIENCE SCORE
Critic Consensus: No consensus yet.
Movie Info
One of the most readily available features of the silent era, The Yankee Clipper is happily also one of the best. A pre-Hopalong Cassidy William Boyd plays Hal Winslow, the scion of a prominent Boston shipbuilding family. Manning the helm of the Yankee Clipper, Winslow prepares to race The Lord of the Isles, a British vessel; the winner will control China's tea trade to America. The race begins at Foo Chow Harbor, where Winslow is paid a courtesy visit by Lady Jocelyn (played by Elinor Fair, then the wife of star Boyd), the daughter of the rival English captain. Lady Jocelyn is escorted by her fiance Paul de Vigny (John Miljan), whom we will learn in due time is a cad and bounder. The Yankee Clipper shoves off while Lady Jocelyn and de Vigny are still on board. They demand to be put ashore, but Winslow, anxious not to lose any sailing time, refuses. Lady Jocelyn's presence on board is resented by cabin boy Mickey (Junior Coghlan), who hates all "wimmin"; on the other head, crew member Iron Head Joe (Walter Long), "mongrel whelp of the high seas", begins drawing up plans to rape the girl at the first opportunity. An outsized typhoon imperils the Yankee Clipper, its crew and passengers, but stalwart Captain Winslow manages to save everyone from drowning. After the storm, the water supply is rationed. Angrily demanding more water, the crew joins a mutiny fomented by the treacherous de Vigny. Meanwhile, Iron Head Joe chases Jocelyn and Mickey to the very top of the rigging, intending to kill the boy and have his way with the girl. Both of the film's villains are foiled in very permanent fashion before the thrill-packed finale at Boston Harbor. One of the videocassette versions of The Yankee Clipper is introduced by surviving cast member Junior Coghlan, now better known as Frank Coghlan Jr.
Critic Reviews for The Yankee Clipper
All Critics (2) | Fresh (2) | Rotten (0)
The plot is pretty creaky stuff, but the incredible high seas footage elevates the picture to an astonishing new level.
... equal parts Victorian chivalry, manifest destiny and nationalist machismo, less swashbuckler than melodrama with plenty of romantic complications.
Audience Reviews for The Yankee Clipper
There are no featured reviews for The Yankee Clipper at this time.
The Yankee Clipper Quotes
There are no approved quotes yet for this movie.
Discussion Forum
Discuss The Yankee Clipper on our Movie forum!