Year of the Fish
(2007)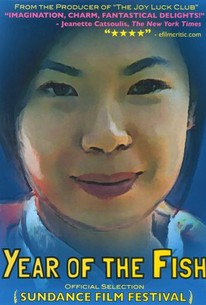 TOMATOMETER
AUDIENCE SCORE
Critic Consensus: This modernized and rotoscope-animated update on the Cinderella story is charming at times and visually impressive, but audiences may find it to be too coarse for children and too superficial for adults.
Movie Info
Writer/director David Kaplan offers a new spin on the familiar Cinderella story with this visually inventive tale of a hopeful Chinese immigrant who discovers that life in New York City isn't for the faint of heart after being forced to work in a shady massage partner. Shot on video and subsequently rotoscoped to take on a slightly surreal look, Year of the Fish opens to find wide-eyed Chinese immigrant Ye Xian (An Nguyen) arriving in New York City in hopes of raising some money to send back to her ailing father overseas. Soon falling into the neon-lit lair of "massage parlor" madame Mrs. Su (Tsai Chin), Ye is forced to do all of the cooking and cleaning after refusing to service her clientele as instructed. All the while, Ye's only sense of solace comes thanks to a growing fish bestowed upon her by a mysterious hunchback named Auntie Yaga (Randall Duk Kim). Meanwhile, Ye longs to catch the eye of kindhearted jazz musician Johnny (Ken Leung) while fending off unwanted advances of Mrs. Su's depraved and persistent son. Just when it begins to seem as if Ye's situation cannot get any more grim, a lavish party staged to celebrate the Chinese New Year leads to a most unanticipated turn of events.
Rating:
NR
Genre:
, , , ,
Directed By:
Written By:
In Theaters:
On DVD:
Runtime:
Studio:
Critic Reviews for Year of the Fish
Audience Reviews for Year of the Fish
It's exactly Cinderella in modern Chinatown. While the visuals are interesting at first, it gradually becomes more annoying than charming. In the end, the movie is a bit to dark for children but too shallowly simplistic for adults.
J.J. Wang
the story itself is told fairly well, and with a couple of interestign dark-fantasy touches (think 90% Cinderella and 20% Pan's Labyrinth)... but the animation made it pretty unbearable; there's no real purpose for it to be there and is only used creatively in transitions and the occassional moment - there's also no money to really make it as expressive like when Linklater does it. If there had been no rotoscoping it would just be a charming little low-budget NY indie flick, but as it stands it becomes ingratiating almost in spite of its better tendencies.
Jack Gattanella
½
Year of the fish - Is finally getting its US release. Taxicabs may not turn into a pumpkins, and the fairy godmother may sport fins and a tail, but "Year of the Fish" is a Cinderella story all the way, from its abused heroine to its happy ending. That the film is rotoscoped, or digitally painted, is its arthouse/festival calling card. But the story is so cliched and broadly drawn that few paying auds will feel compelled to call. That the film is animated gives it an appropriately magical feel, but it can't save the story from being drowned in devices and stereotype. Chin, although a terrific actress, is bound by the dragon-lady conventions of her character; Nguyen's Ye Xian is little more than a doe-eyed victim, waiting for Prince Charming -- who comes in the form of the handsome Johnny Pan (Ken Leung), a local accordionist who's been having problems with modern Chinese women, but who will apparently live happily ever with someone as pliable as Ye Xian. Cinderella story to the rescue. This is a must see. It should be on screen by September. Vince Vmedia UCB
Vmedia Berkeley Ca. Sean Penn as Harvey Milk 11/08
Year of the Fish Quotes
There are no approved quotes yet for this movie.