Yella
(2008)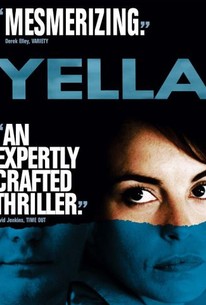 Movie Info
Narrowly escaping her volatile ex-husband, Yella flees her small hometown in former East Germany for a new life in the West. She finds a promising job with Philipp, a handsome business executive with whom an unlikely romance soon blossoms. But just as Yella seems poised to realize her dreams, she finds herself haunted by buried truths that threaten to destroy her newfound happiness.
Audience Reviews for Yella
½
not to be confused with the 50s classic "Old Yella", this movie purposely feels somewhat like a dream (or nightmare), where everything seems a bit out of balance. The acting is fine but I guessed the ending about 15 minutes into the film---I have seen similar movies recently with the same storyline and 'surprise ending'. Still a decent watch...
½
Even with an obvious conclusion, "Yella" is still a compelling movie, simply told, with a quietly strong performance from Nina Hoss as the title character, a young woman seeking to make a new start for herself in Hannover. First, she returns to her hometown for a night to get a change of clothes and to tell her father(Christian Redl) that she got a job and a place to stay. But the past will not leave her alone in the person of Ben(Hinnerk Schonemann), her very estanged husband and a failed businessman, who follows her around before offering her a ride to the train station the following morning. Seeing no harm, wishing to be polite and get it over with, Yella accepts. That turns out to be a huge mistake as he berates her, does not let her get out of the car and even tries to kill them both by driving over the side of a bridge. She survives to go to Hannover, a journey that will encapsulate all the fears and hopes of her new life.
'Christian Petzold 's drama deals with a woman, who leaves her hometown for a promising job and a new life, but is haunted by the truths of the past. As her marriage to Ben broke and her professional career has no future in her native town in the Eastern part of Germany, Yella has decided to search for a job in the West. When she gets to know Philipp, a smart executive at a private equity company in Hanover, she becomes his assistant and gets involved into the world of ruthless and big business. Realizing her dreams could come true with Philipp's help, she starts hearing voices and sounds from her past, which menace her new and better life.
The movie is well-shot, but in no way does that compensate for a future story. The problem is that there is no good direction in the film. I don't know what she's running away from, nor do I know where she is heading. Usually, not knowing where the film is going is something I can enjoy, but here, it all seems pointless. The opening scene, where Ben follows Yella in his car does set a tone, but I think it does not explain why Yella wants to move away from him. At two points Ben breaks into her hotel room. One plot hole, at least to me, was how on earth did he manage to get into her hotel room? I doubt he just walked up to the reception and asked for the key. Yella doesn't seem to do anything further about it: she doesn't ask for her room to be changed, or even seek advice from anyone. Yella's new job' isn't explained well either, all I know is that there are negotiations, and envelopes of money are exchanged. To some extent, this is acceptable, because Yella isn't given any good explanation of what's happening. But, considering how much of the film seems to take place in boardrooms, a little revelation of what is actually going on would've been appreciated. When Yella proclaims her love to Phillip, I lost any sympathy for her, because it is obvious that she is the typical weak female, falling for 'the bad guy', and she doesn't even try to change her fate. After leaving her husband, who was stalking her, she falls Phillip,another bad guy who steals money from his employer, and so she seems to hope that all of a sudden life will become better?? Oh, Common... Poor, very poor German film.
Daisy Maduro
Super Reviewer
Yella Quotes
There are no approved quotes yet for this movie.