Yes - Classic Artists
(2007)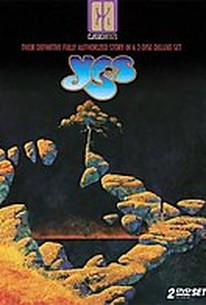 AUDIENCE SCORE
Critic Consensus: No consensus yet.
Critic Reviews for Yes - Classic Artists
There are no critic reviews yet for Yes - Classic Artists. Keep checking Rotten Tomatoes for updates!
Audience Reviews for Yes - Classic Artists
½
Oh, "no", I cannot get me enough Yes... except maybe "Heart of the Sunrise", "Close to the Edge", "The Gates of Delirium", "Awaken", "Fly From Here" and the entire "Tales from Topographic Oceans" album. Don't get me wrong, I think those songs are good and all (Yes, my hatred of contemporary music lapses with the relatively brand-spanking-new "Fly from Here"), but seriously, guys, I've got an afternoon to get to. Eh, whatever, said afternoon is pretty much taken up by this film, which is the only thing longer than a Yes epic... outside of The Flower Kings' "Stardust We Are", "The Truth Will Set You Free", "Garden of Dreams", "Devil's Playground", "Love is the Only Answer" and "Numbers", Jethro Tull's "Thick as a Brick" and "A Passion Play", Neal Morse's "?", "The Door", "The Conflict", "So Many Roads" and "World Without End" (Oh, Neal, you crazy Christian), Pink Floyd's "Shine on You Crazy Diamond", Transatlantic's "All of the Above", "Duel With the Devil", "Stranger in Your Soul" and "The Whirlwind"... and so on and so forth. Jeez, as big of a fan as I am of progressive rock, maybe I don't have an afternoon to get around to, but I still need to get back to my lame pop songs of the '90s and 2000s, or at least that's what you're probably thinking... on the off chance you have actually heard about The Flower Kings, Neal More and Transatlantic, let alone the era of music their most notable songs are from. Hey, I can't lie, progressive rock is still turning in awesome music, but the lyrics and vocals aren't what they used to be, so it's safe to say that the more controlled post-King Crimson progressive rock peaked with its originators, Yes... until Pink Floyd came along. Hey, call me one to for an easy answer for saying such a thing, but Pink Floyd had more dynamicity and tightness, and plus, they're one of the few great classic prog rock bands that didn't kind of sell out after a while (I'm okay with "Owner of a Broken Heart", but look at my face and tell me that Yes doing a new wave dance rock song is perfectly fitting). That being said, Yes is still an awesome band, so it's only fitting that this documentary be intriguing, and sure enough, it is, and yet, this film is still, much like certain areas in Yes' career after the "Going for the One", with some problematic aspects. A traditional interview-driven music documentary that deals with a story faced by many a rock band through the years, no matter how groundbreaking they may have been, this film is a formulaic one that hits more than a few familiar beats within the rockumentary genre, then, after a while, begins to hit familiar beats within its own structure, being too sprawling to obscure the dynamicity limitations within a storytelling format of this type. After a while of watching people simply sit around and toss fun facts and history lessons back and forth, you begin to find that the documentary is very repetitious, having enough going for it to keep you going, but still some serious pacing problems, which don't quite end with repetition. Pacing inconsistency isn't an especially recurring issue in this film that has more than enough time to tightly meditate upon its progression, yet there are those moments in which momentum picks up a bit too much and leaves the documentary to gloss over some aspects and throw you off, and, certainly, they're problematic, though not quite as occurring as the many moments in which the documentary spends too much time meditating upon a piece of material, dragging along and exacerbating the aforementioned repetition, until what you end up with is an admittedly generally well-rounded, but kind of bloated rockumentary epic. At just six minutes shy of a whopping three-and-a-half hours, this documentary is just too blasted long, and it doesn't really take you too long to get about as used to that as you're going to get, yet the fact of the matter is that this documentary occupies a lot of time, and doesn't really need to, being a consistently intriguing but inconsistently paced epic of a documentary whose lengthiness goes emphasized by mishaps in atmospheric momentum. When it's not kicking off some classic progressive rock tunes, the films begins to quiet down quite a bit, playing up the dry discussions of this subject matter that are often lively, but perhaps just as often detrimental to entertainment value, whose atmosphere falls slave to the coldness of simple talk and dulls things down a bit, while making an overblown runtime seem even longer. It takes a long time for the film to pick up, but rest assured that the final product does, in fact, pick up, and quickly enough to almost reward in the long distance runaround-I mean, long run, and yet, make no mistake, the film's problems are initially glaring for a while and never fully dissipate, looming over the documentary, no matter how much it picks up, and ultimately driving the final product short of what it very well could have been. The final product doesn't quite make it to rewarding, but, with that said, it comes close, being an overdrawn mess, but one that is still focused and compelling enough to keep you going, especially if you're a Yes fan looking to get a close look into the careers of legends, and not just within the new interviews. There's not quite as much library footage as I was hoping there would be, and the footage provided doesn't really have all that stylish of a presentation, but monotony often finds a formidable challenge within many a nifty piece of archived video clip that not only livens up the structure of the documentary, but gives you an immersive visual interpretation of Yes' glory days, whose musical notes used in the documentary are, of course, even more lively and, well, enjoyable than the footage. Yeah, you can say what you will about their turning in plenty of songs that kind of ran together, as well as the questionable moments they made during and, of course, after their golden years, but when you take a step back and think about it, Yes is not only one of the most influential rock bands ever, but was one of the great rock bands of the '70s, after which Yes still turned in more than a few rewarding pieces, so, as a celebration of such an excellent group, this film has a catalogue full of classic tunes that it, of course, explores thoroughly enough to present you with entertaining song, after entertaining song, after entertaining song, then some more entertaining songs after some lame material from the '80s and '90s, thus making for a soundtrack that is both entertaining by its own right, and complimentary to the entertainment value of the documentary, whose plays with musical liveliness thankfully grow greater and greater as things progress. Sure, no matter how recurring musical liveliness gets to be, there are still quiet spells throughout the final product that dull things down a bit, but when musicality is played up, it is bound to entertain the non-Yes fans, or rather, people who hadn't ever heard of Yes (It's hard to listen to Yes' stuff in the '70s and not end up being a fan), and pump even more excitement within the legendary band's lovers, who are also bound to be kept going by the group's non-musical efforts in this documentary. As I said earlier, there are plenty of dry spells in the interviews that, when meditated upon, play an instrumental part in the making of the documentary's relatively dull spells, but on the whole, once you either get used to the interviews' dryness or simply find yourself facing more colorful interview footage, you'd be pressed to not by engaged by the members and peers of Yes, whose insightful and charming discussions of intriguing experiences prove to be humbling and supplementary to a sense of intimacy that gives you a hefty appreciation for the legends, whether you're a fan or... someone who hasn't heard of Yes (If you've just heard and didn't like their post-'70s albums, the band doesn't even regard them as Yes albums). The dry spells of the interviews that drive the final product are ultimately outweighed by the engagement value found within musical legends' talk of their lives, times and influential art, doing a lot to keep the final product as intriguing, with an intrigue that would, of course, be nothing if the interviewees has nothing interesting to talk about. In spite of their being such groundbreakers, Yes holds a rock band story that is kind of run-of-the-mill, but it's still very interesting, being a layered study on how the artists evolved through the years as a unit and musical force whose interpretation in this documentary outstays its welcome a bit, but still has plenty to say that is generally pretty engaging. There are underwhelming moments and strong moments here and there throughout the documentary, which ends up falling as underwhelming on the whole, but just barely, because there's still so much intrigue and, to a lesser extent, entertainment value to this epic-length study upon one of the fathers of prog rock for you to walk away reasonably satisfied, even though there is still a fair bit to be desired. "Now that it's all over and done, called to the seed, right to the sun", you're left with a formulaic and repetitious documentary, whose pacing issues go made all the worse by an unevenness, bookended by hurried occasions and many an overdrawn spell that, when backed by dry, if not slightly dull spots in atmosphere, bland the final product into a bit of underwhelmingness, which isn't to say that there's not still enough interesting archived footage, fine music, engaging interview material and considerable intrigue to the subject matter for "Classic Artists: Yes" to stand as a consistently enjoyable, if somewhat overblown study on one of rock music's most influential forces. 2.75/5 - Decent
Cameron Johnson
Super Reviewer
Yes - Classic Artists Quotes
There are no approved quotes yet for this movie.
Discussion Forum
Discuss Yes - Classic Artists on our Movie forum!