Yesterday, Today and Tomorrow (Ieri, oggi, domani)
(1963)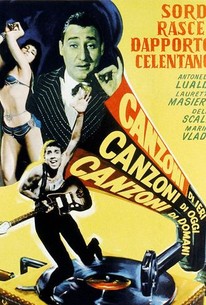 Yesterday, Today and Tomorrow (Ieri, oggi, domani) Photos
Movie Info
An original comedy that casts Marcello Mastroianni and Sophia Loren in three different stories set throughout Italy. Witty and unforgettable, this gem from master filmmaker Vittorio de Sica was the 1964 Academy Award winner for Best Foreign Language Film.
Critic Reviews for Yesterday, Today and Tomorrow (Ieri, oggi, domani)
Audience Reviews for Yesterday, Today and Tomorrow (Ieri, oggi, domani)
I find the title of this film a bit puzzling, since the first two stories presented ("Yesterday" and "Today") may be quite effective and straightforward about what they want to say but the last one ("Tomorrow") could take place anytime and pales considerably in comparison.
Carlos Magalhães
Super Reviewer
3 movie shorts with the great Sophia Loren and other Italian actors. Its all in Italian and has English subtitles. The first story is the best she sells cigarettes on the black market when police come to arrest her she is with child, in Italy if you pregnant you can go to jail so each time the law comes to arrest her she is again with child 8 children later, kind of funny the other 2 shorts leave a lot to be desired. 3 stars 11-8-12
Bruce Bruce
Super Reviewer
Sophia Loren and Marcello Mastroianni star in three stories about sex and love. What a delightful Italian comedy. Loren and Mastroianni are a classic pair, and each story allows them to explore a different facet of sexual chemistry. They rise to each challenge, and they're a delight to watch. The first story, about a couple who squirts out babies in order to avoid debtors' prison, defies realism, but it allows Loren to strut and saunter her way around the world-weary, oversexed Mastroianni. The second story, about a man and woman escaping her husband for a weekend in the country, sets an adversarial relationship between the two Italian stars. The final story contains one of the most hilarious, off-the-wall seduction sequences I've ever seen, and Mastroianni howls his way into our hearts -- broad comedy at its best. Overall, Yesterday, Today, and Tomorrow is an Italian classic and a must-see.
Jim Hunter
Super Reviewer
Yesterday, Today and Tomorrow (Ieri, oggi, domani) Quotes
There are no approved quotes yet for this movie.