Yiddish Theater: A Love Story
(2006)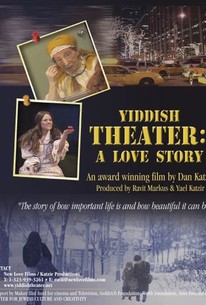 Movie Info
Between the late '30s and 2006, the number of Yiddish stage theaters in the Big Apple sadly dwindled from twelve to one. Two of the last remaining institutions were the Folksbiene Yiddish Theatre, sustained for many years by Holocaust survivor Zypora Spaisman (1916-2002), and Spaisman's last remaining stage ensemble, the Yiddish Public Theatre. With his documentary Yiddish Theater: A Love Story, director Dan Katzir visits Spaisman in the final few years of her life, when the determined nonagenarian and her colleagues at the Yiddish Public put forth a concerted effort to find a theatrical venue in which to mount their production of Peretz Hirschbein's 1916 play +The Green Fields. Katzir divides his documentary into eight portions that introduce the audience to the said ensemble's elderly performers, as well as the younger participants, who express great determination to keep yiddishkeit alive. Above all else, the work provides an enduring biographical portrait of Spaisman and reveals the extent to which she linked Yiddish theater to linguistic and cultural preservation. Interviewees include such Yiddish theatrical legends as Felix Fibich, Seymour Rechzeit, Zalmen Mlotek, and Shifra Lerer.
Rating:
NR
Genre:
, , ,
Directed By:
Written By:
In Theaters:
Runtime:
Studio:
Critic Reviews for Yiddish Theater: A Love Story
Audience Reviews for Yiddish Theater: A Love Story
[b][u]YIDDISH THEATER: A Love Story [/b][/u]A Documentary Film by DAN KATZIR Reviewed by Martin Brandfon I had the opportunity to see this gem of a film at the Peninsula JCC in Foster City, CA, last month (with the Director in attendance) and if you find it playing anywhere near you, call your friends and family to go see it! Perhaps the title of the film is a little misleading; this is not a Yiddish film but it is a "love story" on many levels. (There are subtitles for the Yiddish parts and to help better understand the star's accented English.) The love objects are many: keeping Yiddish theater alive in New York; the close relationships between the dedicated "Yiddish Diva" Zypora Spaisman and her producer David Romeo; as well as the growing rapport between the film maker and his subject. Filmed against the backdrop of New York City at Hanukkah time in 2000, the story unfolds: the aged but energetic star of the Yiddish Public Theater is trying to bring her off-Broadway production of Peretz' 1916 play, "Green Fields," to a theater closer to Times Square to attract bigger audiences. Despite a great review in the New York Times and inclusion as one of the 10 Best Off-Broadway Plays by the New York Post, raising enough money to move the show is the problem and the goal. The burning Hanukkah candles tick off the days until the final curtain falls. The film captures the spirit and drive of the actress and provides an intimate portrait of the impact of her life's work on the play's cast, her family, her friends and ultimately on Yiddish theater. It also proves that no matter how old you are, dreams really can come true. Zypora Spaisman is an inspiration and Dan Katzir has preserved her unforgettable character for this generation. In speaking to the Director, Dan Katzir, I realized that a parallel struggle exists in producing theater and distributing this documentary to wider audiences. The film has recently been shown in New York City at the Pioneer Theatre and in Los Angeles at Laemmle's Grande. Both the New York Times and Los Angeles Times gave it positive reviews but these screenings were limited runs. (Last year's showings at the San Francisco Jewish Film Festival were sold out hits!) So, if you are in a position to bring this film to your synagogue, JCC or other community organization, please contact the Dan Katzir, dan@newlovefilms.com and check out his other award-winning films at [url="http://www.newlovefilms.com/"][u][color=#0000ff]www.newlovefilms.com[/u][/color][/url].
martin brandfon
Yiddish Theater: A Love Story Quotes
There are no approved quotes yet for this movie.
Discussion Forum
Discuss Yiddish Theater: A Love Story on our Movie forum!