Yoga Hosers
(2016)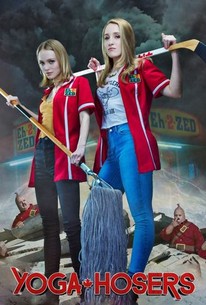 TOMATOMETER
AUDIENCE SCORE
Critic Consensus: Undisciplined, unfunny, and bereft of evident purpose, Yoga Hosers represents a particularly grating low point in Kevin Smith's once-promising career.
Movie Info
15-year-old yoga-nuts Colleen Collette and Colleen McKenzie love their smart phones and hate their after school job at Manitoban convenience store Eh-2-Zed. But when an ancient evil rises from beneath Canada's crust and threatens their big invitation to a Grade 12 party, the Colleens join forces with the legendary man-hunter from Montreal named Guy Lapointe to fight for their lives with all seven Chakras, one Warrior Pose at a time. Depp, Depp the younger and Smith the younger are returning in the roles they created for TUSK.
News & Interviews for Yoga Hosers
Critic Reviews for Yoga Hosers
Audience Reviews for Yoga Hosers
½
From Kevin Smith comes the horror-comedy Yoga Hosers, the second entry in his True North trilogy. The story follows two convenience store clerks who get charged with murder when a party goes wrong, and to prove their innocence they team up with a private detective to hunt down a group of diminutive creatures who live beneath their store and are behind a string of murders. Harley Quinn Smith and Lily-Rose Depp lead the cast, and while Depp has a magnetic screen presence (like her father), Smith is death weight. The characters are poorly written, and the story is incredibly dumb. And, the humor isn't really that funny; lacking the clever wit of Kevin Smith's earlier films. Yet there are some fun cameos that longtime fans will enjoy, and the soundtrack is really well-done. But Yoga Hosers is little more than a vehicle for Kevin Smith and Johnny Depp to showcase (and work with) their daughters, and it all falls flat.
Dann Michalski
Super Reviewer
The story didn't really fit but the energy of the film works well. Kevin Smith still has some banter left in those fingers and I think it is a shame he is spends too much time with these comic book tv shows. The over the top style is fitting and all the characters are having a great time so it's hard not to be swept up in the fun. The film will divide audiences and I can see why people don't like it, certain people think Mallrats is a giant waste of time, not me though. Not without flaws but hardly the debacle people are painting it to be, these films are for certain fans so the isolation to the mainstream audience is clearly evident.
Brendan Nicholls
Super Reviewer
It's obvious that Kevin Smith's career has been, quality-wise, been on a downward spiral post-2000. The way that Mr. Smith has reacted to this has been the ultimate in whiny bitchiness. Complaining about the fact that film critics are just failed filmmakers and how they can't criticize what he does unless they do it. But I bet Smith would be a-ok if these critics praised every movie he's made. He needs to grow up and realize that not liking one of his films isn't a personal attack. This is part of the reason why I've sort of grown to dislike Smith, he comes across like a whiny little manchild when people don't like his movies. And this isn't even coming from someone who has relentlessly criticized his worse movies, like Cop Out, which did suck. Anyway, the point of the matter is that Smith has just sort of retreated onto himself and just made films that amuse him and his fans and no one else. That was obvious with Tusk, a film that I thought was his best since Clerks 2. It's a film that was conceived on an episode of one of Kevin's podcast, at least the idea. And it wouldn't surprise me if this film was much the same way, there's some post-credits stuff with Smith and someone else that I only caught the end of and just didn't bother to go back and listen to it. Anyway, the point is, it's obvious that this film was made for self-indulgent purposes. It's a home movie that was made for himself, his friends and his family. And I believe Kevin Smith himself even said that this was the stupidest film ever made. I'm not sure about that, but I'm sure I read that somewhere. And that really is an undeniable fact, this is a stupid movie. Is it the stupidest movie ever made? I don't know, I find it unlikely. I think the stupidest movie ever made would have to be made something that was made earnestly, not something that's purposely stupid from the get-go. Really, though, who doesn't like a legitimately good stupid movie every now and again? It's fun to just shut off your brain and partake in something that embraces an absurdist tone. And this is that very movie. Though the fact that it's a stupid doesn't mean that it's a good one. Nor does it shield it from legitimate criticism, which I'm sure some people had. But, if I'm being completely honest, in spite of the fact that it's actually a really unfunny movie, I found this to be somewhat charming regardless. And, really, that is mostly due to the fact that Harley Quinn Smith and Lily Rose Depp are surprisingly energetic in their roles. They're obviously not the most talented comedic actresses available, but they do a good job with their characters and they were having a blast doing this movie. That enthusiasm definitely helped the movie a lot, perhaps not as much as it could have, but their enthusiasm makes it easier to watch the film during the parts that aren't that funny. And, realistically speaking, that's the majority of the movie. I also like the fact that the movie just did pretty much did just about every stupid thing they could have done under the book. Of course, that stupidity feels manufactured instead of organic, but I sitll have to give them props for just trying absolutely everything under the book, even if it fell flat. The film also pokes fun at critics, by basing the entire villain's motivation to create this goalie golem, yes, complete with hockey mask, to kill everyone who ever said a mean thing about him. Yes, really, that's all it is about really. I honestly think that this would have been better served as a short movie to be included as an extra on a DVD release or something. Smith has a dedicated fanbase and I'm sure they would've paid money to see this. Money that they didn't pay to ACTUALLY see this in theaters. The movie was a commercial and critical failure, pretty much on an epic level, since a lot of people consider this to be the low point of Smith's career, even WITH Cop Out. But this, to me, has all the makings of a cult movie that will only grow in popularity the more time passes. It's just that type of movie. It's not ahead of its time, not even close, there's more absurd movies out there that are considerably better, but I still expect a cult following for this, if there isn't one already. If I'm being objective, this is a bad movie on pretty much every level. It's not funny and it goes on longer than it probably should have. Harley's and Lily's energy and enthusiasm isn't enough to make this a good movie, but as far as bad movies go, this was one that I could tolerate and somewhat enjoy it as it was meant to be, not as it probably should have been if more thought was put into it. I wouldn't really recommend it though, it's just too insane for it to appeal to a wide audience. If you know what you're getting into, a home movie where Smith got together with his friends and his family to make a silly movie, then you can get something out of it. If not, then stay away from it.
Jesse Ortega
Super Reviewer
Yoga Hosers Quotes
There are no approved quotes yet for this movie.
Discussion Forum
Discuss Yoga Hosers on our Movie forum!