Yolanda and the Thief
(1945)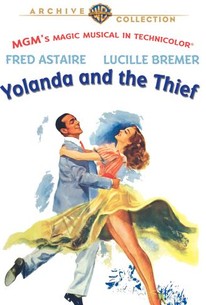 Yolanda and the Thief Videos
Yolanda and the Thief Photos
Movie Info
Yolanda and the Thief has long been considered the nadir of Arthur Freed's years as an MGM musical producer. Unappreciated at the time of its release, the film was a huge financial and critical failure. It has since become a cult film and cinematic cause celebre, revered by its adherents and condemned by its detractors. For the record, Fred Astaire stars as a suave but strangely unsympathetic con arstist Johnny Parkson Riggs, who convince sheltered South American heiress Yolanda (Lucille Bremer) that he's her guardian angel. Naturally, Johnny falls in love with Yolanda and tries to find a way to put an end to the scam job cooked up by himself and his partner-in-crime Victor Budlow Trout (Frank Morgan). Meanwhile, a mysterious character named Mr. Candle (Leon Ames) watches the proceedings with seemingly detached amusement (guess who he turns out to be!) With the exception of "Coffee Time", most of the film's musical numbers are forgettable; Astaire and Lucille Bremer dance well together, but generate none of the charisma necessary to sustain a whimsical tale of this nature. As for Bremer alone, her biggest scene takes place in an artfully arranged bubble bath; undeniably gorgeous, she frankly isn't much of an actress. It is difficult to assess Yolanda and the Thief pro or con; this is one film that is guaranteed to either delight or aggravate the viewer, with no "middle ground."
Critic Reviews for Yolanda and the Thief
Audience Reviews for Yolanda and the Thief
½
Vincente Minnelli's lush Technicolor fable is uneven to say the least, but it's a triumph of style over substance; Astaire and Bremer dance to the song "Coffee Time."
Michael Troudt
½
Yolanda is just such an awful character, can't get past it and her beyond extreme naivete/stupidity. Nothing in the script is believable, character motivations make no sense.
Matt Heiser
Minnelli's second film suffers from the casting of Lucille Bremer (producer Arthur Freed's mistress) in the lead role, and the public was not crazy about seeing Astaire playing a thief.
Greg Wood
Yolanda and the Thief Quotes
There are no approved quotes yet for this movie.
Discussion Forum
Discuss Yolanda and the Thief on our Movie forum!