Yoroi: Samurai zonbi (Yoroi: The Samurai Zombie)
(2008)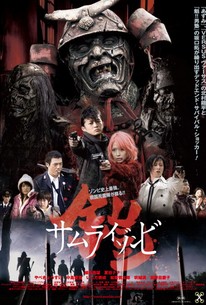 AUDIENCE SCORE
Critic Consensus: No consensus yet.
Movie Info
A pleasant day trip turns into a blood-spattered nightmare in this extreme horror vehicle from actor and director Tak Sakaguchi. A happy family is taking a trip to the country when their mini-van is sidelined by a pair of angry criminals intent upon taking the vehicle and any valuables inside. The crooks lead the family into what looks like an abandoned village in the woods, but they quickly discover they picked the wrong place to pull a carjacking -- this section of the forest is patrolled by Yoroi, an undead samurai who has not lost his talent for killing even though he's been deceased for quite some time. Yoroi doesn't distinguish between heroes and villains, and soon everyone involved is fighting for their lives against the undying warrior with the deadly sword. Yoroi: Samurai Zonbi (aka Youoi: The Samurai Zombie) was an official selection at the 2009 New York Asian Film Festival.
Critic Reviews for Yoroi: Samurai zonbi (Yoroi: The Samurai Zombie)
All Critics (1) | Fresh (1) | Rotten (0)
while Samurai Zombie does not fail to deliver on any of the expectations that it initially raises, it realises them in a way that is full of subversive surprise.
July 28, 2010
Audience Reviews for Yoroi: Samurai zonbi (Yoroi: The Samurai Zombie)
Tak Sakaguchi's Yoroi: Samurai Zombie has got pieces to work with, but somehow can't get them to connect together.
With the title that this film has it isn't that difficult to figure out what will be offered in just under 90 minutes. It does deliver some humor, creepy chills, and even some action; however, none of it is exceptional, let alone entertaining. The characters lack sufficient development and the plot details are very thin, although the unveiling of the story at the ending clears up a number of things. Still, it isn't worth sitting through 90% of the film for.
The violence is over the top gory with some so-so bloody effects. The action, which is mostly gun and swordplay, isn't great. This is a huge disappointment coming from a Tak Sakaguchi film of this genre.
The acting is excessive at times and it fits right in there with the wacky characters. Airi Nakajima and Nana Natsume are sexy, but no one really stands out and this is because none of the characters are likable.
Yoroi: Samurai Zombie is everything as expected and yet not everything as expected. In other words, it is worth skipping for something else.
Yoroi: Samurai zonbi (Yoroi: The Samurai Zombie) Quotes
There are no approved quotes yet for this movie.
Discussion Forum
Discuss Yoroi: Samurai zonbi (Yoroi: The Samurai Zombie) on our Movie forum!